Medical Expeditions
Use your medical or dental skills to support the development of one of our remarkable partnership healthcare projects in the Peruvian Amazon and on Lake Victoria, Tanzania.
Bring your knowledge, skills and passion aboard one of the 3 fully-equipped medical vessels, working alongside the national healthcare teams on a 2-week expedition, gaining invaluable experience and helping to support positive healthcare outcomes for remote and isolated communities.
398,764
Consultations - Lake Victoria
2,031,162
Consultations - Amazon
2,429,926
Medical & Dental Consultations
Climb Aboard And Join The Team
Vine Trust offers opportunities for qualified, registered clinicians and final year medical students the opportunity to support one of our extraordinary partnership programmes which are helping to strengthen health systems for remote communities in either the Peruvian Amazon and on Lake Victoria, Tanzania.
Operating from one of the three medical ships, which are fully equipped consultations rooms, dental surgeries and pharmacies, you will sail to communities who would otherwise have little or no access to basic health services.
Together with the permanent in-country clinical team, you will live and work on the ship, supporting the respective programme's delivery of medical services and health education in each of the communities during your expedition.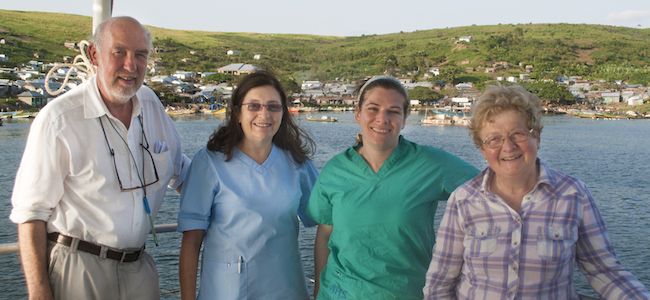 Challenge Yourself
You don't need any previous knowledge or experience of tropical medicine, or be able to speak Spanish or Swahili. Our team of medics and translators will support you throughout your expedition, enabling you to make the most of your time in this challenging and rewarding environment.
Volunteers from past expeditions have told us they found their experience on board immensely valuable and fulfilling, both professionally and personally. Apply your clinical skills in innovative ways to treat vulnerable communities in the most unique and incredible settings on the planet
Climb aboard! Contact health@vinetrust.org to check availability and then apply online
Tanzania Medical Expeditions
Bring primary healthcare to the isolated communities of Lake Victoria, Tanzania, as part of Vine Trust's latest healthcare initiative. MV Jubilee Hope, a 160-ton former Royal Navy Tender, refitted for purpose, will be your base as you travel to the vulnerable communities on the shores and islands of the lake. Launched by HRH The Princess Royal and operating since 2015, Jubilee Hope serves an area of an estimated 450,000 people who have little or no access to medical care.
Cooperating with regional, national and international partners, you will provide a range of primary healthcare services, including General Medicine, Dentistry, Mother & Child clinics,
and HIV testing/treatment. You will be fully immersed in the colourful and vibrant Tanzanian culture and visiting communities. Find out more about this project in our Jubilee Hope Handbook.
Peru Medical Expeditions
Help us provide basic health and dental care to the rural communities of the Peruvian Amazon. Since 2001, Vine Trust's Amazon Hope Programme has worked closely with the Peruvian Ministry of Health to provide a regular healthcare service to over 160 remote communities on the Amazon and its tributaries. In July 2014, we celebrated the milestone of our 1 million patients, treated free of charge!
Practice your clinical skills in the heart of the spectacular Amazonian rainforest, visiting local communities and enjoying the incredible natural surroundings. Find out more information in our Amazon Hope Handbook.
Clinical Tasks
We are unable to guarantee what health issues will be presented as each expedition will be different. It is, however, likely that clinical tasks may include:
managing tropical diseases (including malaria)
basic obstetric care
treating minor injuries
undertaking minor surgery
paediatrics
tooth fillings & extractions
health education.
Please note our in-country staff will provide you with all the necessary support. There is no need to be concerned if you have not previously treated a health complaint. You will only be expected to treat health issues within your clinical area which you are comfortable in dealing with.
Cost
Please search for a trip to determine the cost of your expedition. Click me
Prices cover a contribution towards the medical projects that is used to help run and maintain these life-changing services, internal transport, as well as your accommodation.
It does not include international flights, any visa costs, immunisations or anti-malarial tablets required.
Frequently Asked Questions