The Vine Trust Barge
By 2010, the UK-based Vine Trust team had outgrown its home in Port Seton, Edinburgh, and had a vision for a new and leading-edge base.
Thanks to the support and sponsorship from Forth Ports, Archial Architects, Studioarc, and many other organisations, the charity embarked on a two-year journey which came to fruition in September 2011 when the Vine Trust Barge was officially opened by HRH The Princess Royal at the Prince of Wales Dock in Leith.
Barge for Hire
If you are interested in hiring the barge please get in touch with us:
.(JavaScript must be enabled to view this email address)

Prince of Wales Dock, Edinburgh, EH6 7DX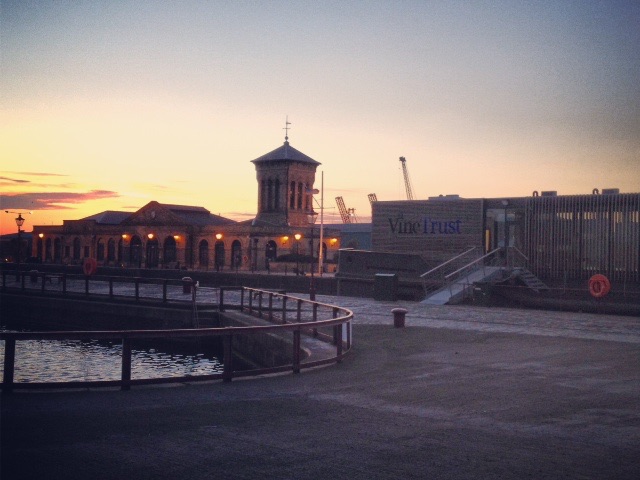 The Vine Trust Barge boasts a state-of-the-art design that won the Education Design Award from the Glasgow Institute of Architects in 2011, and is available for individuals and groups to hire throughout the year.
Whether you want to host a ceilidh, conference, or cocktail party, we've got the space that will suit your needs.
The Glass Room is the largest of our three rooms for hire, and is designed for multi-purpose use as a conference, meeting or private event space.
Located on the top deck, the room features floor-to-ceiling glass windows with surrounding views of the Port of Leith. It's also equipped with a new audio-visual system that includes a high-resolution projector and pull-down screen, and a built-in ceiling sound system. Chairs and tables are available by request.
Located on the lower deck, the Training Room is ideal for seminar or training purposes, fully equipped with a multimedia projector and a flipchart and pens. You'll have easy access to our onboard kitchen and restrooms, and will enjoy plenty of natural light that comes through the French windows at the back of the space.
The Board Room is on the top floor of the Barge and is suitable for small meetings, with a floor-to-ceiling window that showcases the Prince of Wales Docks and the five-star Fingal Ship Hotel. It is well-equipped with video and teleconference capabilities as well as a large wall-mounted screen.
All our rooms come with Wi-Fi, adjustable temperature control, and disabled access. You'll also have access to free parking in the Fingal's car park next to the Barge.
If you don't have a car, you can take the tram down to Newhaven from the centre of town and get off at the Port of Leith stop. From there, it's less than a minute to walk to the Barge.
You can also take the 16 or 35 buses from Princes St and the Royal Mile respectively down to the Shore and walk from there (it's a two-minute walk).
We are able to arrange catering for full and half-day hire, with complimentary tea, coffee, and biscuits.
For more information, please view our Venue and Events Brochure available here.