Connecting People. Changing Lives.
Vine Trust is an international development charity which enables volunteers to provide medical, home-building and care support to communities living in severe poverty in Tanzania and Peru.
Our work involves supporting in-country partners to empower their communities. We also connect volunteers with these in-country partners to create bi-lateral learning opportunities, which promote sustainable development for vulnerable children and families.
We collaborate with local partners and their communities to create effective change by:
building individual family homes and larger children's homes
supporting care and education programmes for children and families
providing a floating primary healthcare service to remote and isolated communities
educating local people on health and disease prevention
Vine Trust grew out of a charity gift shop set up in the 1980s in Bo'ness Scotland in response to famine in Africa. Our projects in Tanzania and Peru have now helped nearly 2 million people living in severe poverty.
We are grateful to all the individuals and organisations that have been part of our story and helped us to achieve everything we have accomplished, but the story is still being written!

Support Us
Help us to connect people to change lives by:
volunteering on one of our Building, Medical or School Expeditions to Tanzania or Peru
donating funds towards our life-changing work
sponsoring specialist medical equipment for our medical ships
offering specialist advise or technical expertise to support our work – Contact Us
Ready for an adventure?
Challenge yourself to empower marginalised children and families through our 3 volunteer expedition programmes.
Building Expeditions
Building Expeditions in Tanzania work with partner organisations to provide shelter and security for some of the world's most vulnerable communities. These individual homes offer much needed hope and the opportunity to look forward to a brighter future. So far, corporate groups, social groups and teams of individual volunteers have helped to build over 130 small family homes and 3 large children's homes, changing the lives of hundreds of local people.
Thank You
Thanks for taking an interest in Vine Trust. We are incredibly passionate about what we do and always looking for innovative ways in which to help those living in poverty.
We are always keen to hear from you. If you'd like more information about Vine Trust or any of our projects, please get in touch!
School Expeditions
School Expeditions support secondary school groups from across the UK to volunteer on sustainable social development projects in Tanzania or Peru, to learn about the people, culture and history of the country and become active global citizens. So far, over 1000 school volunteers have made memories and friendships which will last a lifetime, bridging cultural and language differences with local people to help change the lives of those living in severe poverty.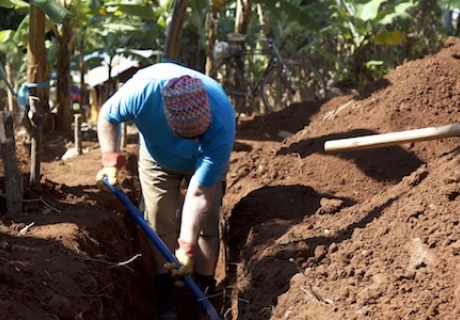 Medical Expeditions
Medical Expeditions enable medical and dental volunteers to use their clinical skills on the Peruvian Amazon and Lake Victoria Tanzania, providing primary healthcare to isolated and remote communities living in extreme poverty. Our floating healthcare programmes provide a vital lifeline to these communities, treating common health issues and education families on sanitation and disease prevention. In total, the projects in Peru and Tanzania have held nearly 2 million consultations for local people who would otherwise have to travel great distances to receive even the most basic healthcare.