Tuesday 18th June
Travel: We arrived in Lima at 6pm local time, after a long 12 hour flight, which was passed by watching films and getting to know the volunteers from the other school who we are traveling with for these 2 weeks. We then got a bus to the house and got settled into our rooms for the next few days.
Wednesday 19th June
Day 1: We started our day by getting breakfast at a local café called Las Vecinas (The Neighbours). After finishing breakfast we toured around the local area of Barranco admiring the graffiti - taking photos of all the work and walked around the Jade Rivera Gallery.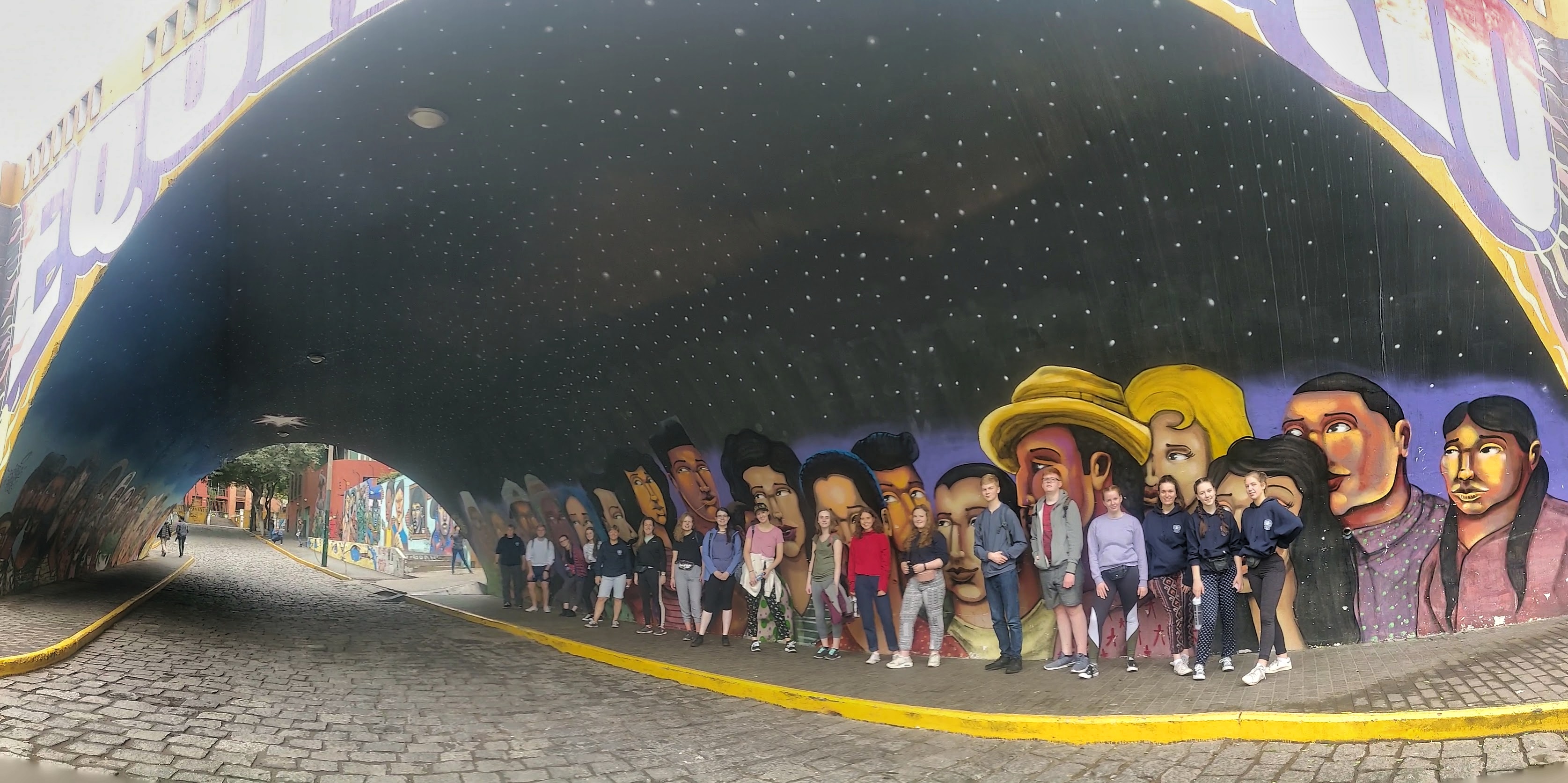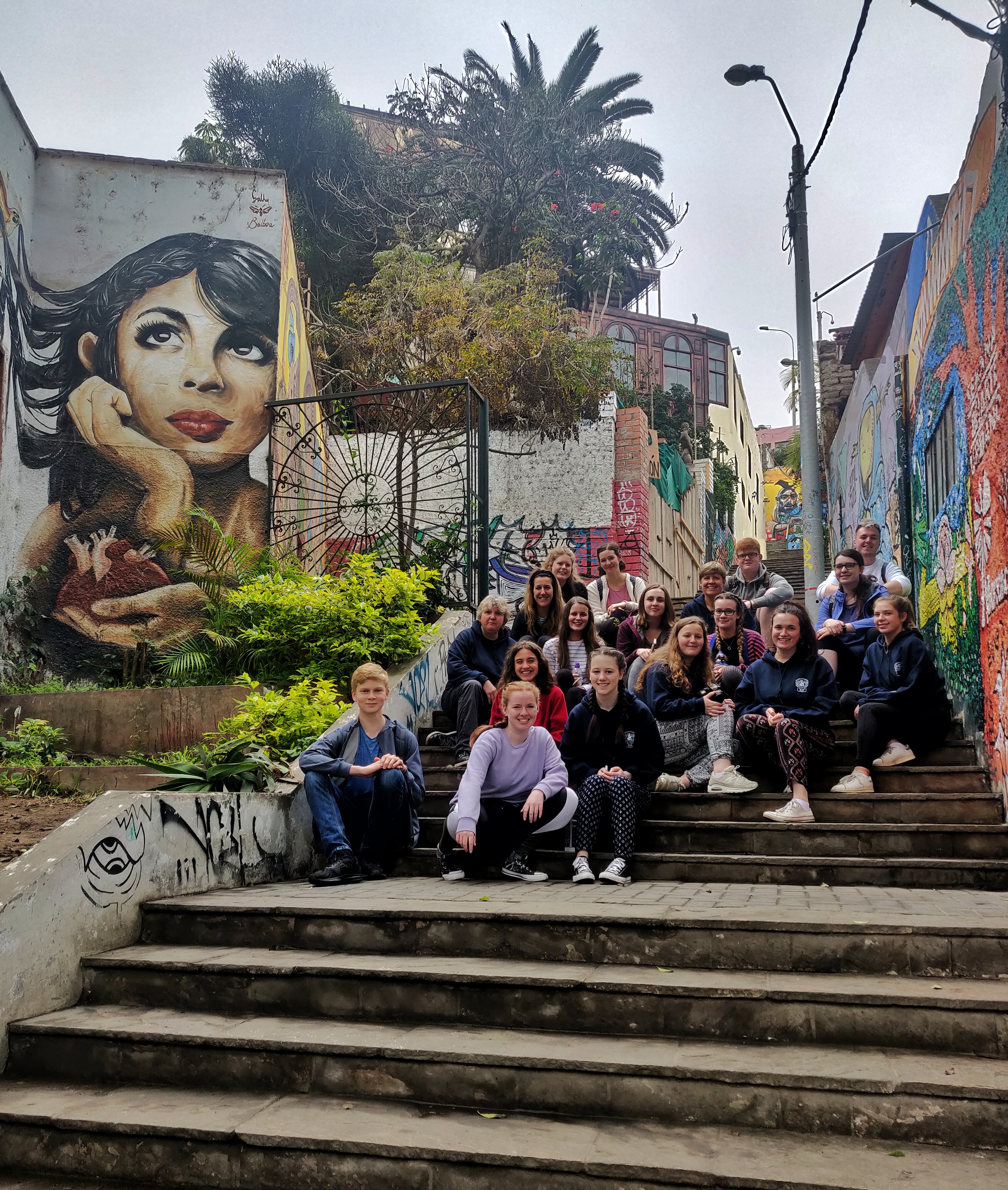 We walked across Puente de Los Suspiros and held our breath as we crossed as the legend says if you do then your desire of love will be fulfilled. From there we walked down to the Pacific Ocean, where some dipped their toes/hands in so they can say they were in the ocean. We then jumped on a bus to Miraflores which was an interesting experience for us all. After getting off the bus we had lunch in the Parque del Amor (park of love). Once we returned home some of us went to the shops to get the ingredients to make dinner – tonight's menu is stir fry.
Written by Kiah and Lisa
Thursday 20th June
Day 2: On Thursday morning, Sandra and Carlos, who work with Mensajeros de La Paz picked us up and took us to the Day Centre where we spent the day. We were greeted by the amazing children who welcomed us by demonstrating dances from the 3 main regions of Peru – the highlands, the coast and the jungle. We were very impressed!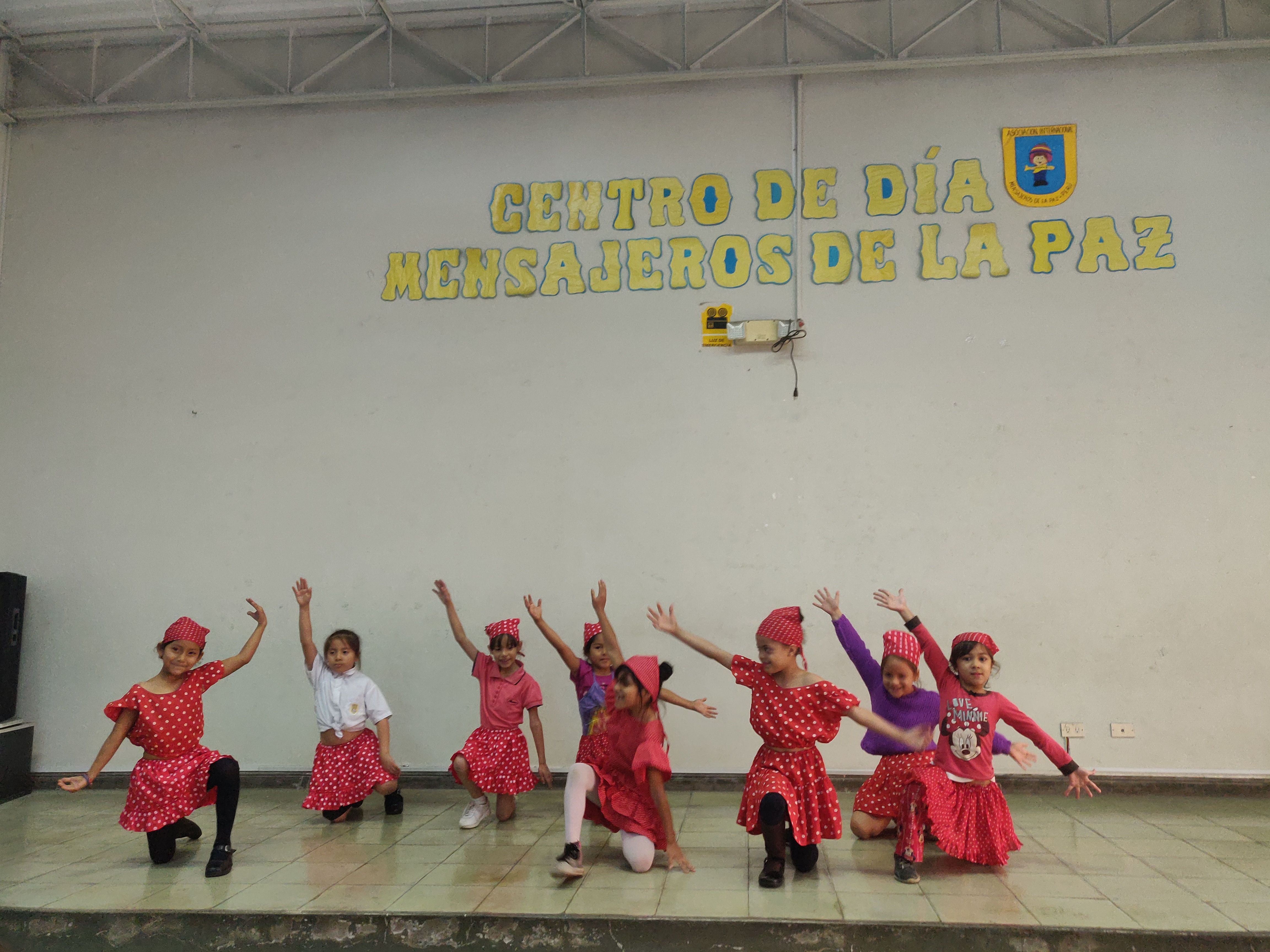 We started work on the bio-huerto (school kitchen garden), with one group managing construction and the other taking charge of the plants and gardening. Our hard work was rewarded with an afternoon of playing and getting to know the children, meanwhile trying to improve our Spanish. Whilst some of us got off relatively easy, others were forced to recall their rusty mathematics skills only to discover that the Peruvian children didn't find our minimal knowledge useful in completing their homework. After saying goodbye to our new friends, we headed to the supermarket to stock up for our feast that ngiht. We devoured our delicious dishes of fajitas, nachos and guacamole cooked by the talented Sara, Niamh, Catherine M, Rosie, and Kiah. With full bellies, we slept our best night yet!
Friday 21st June
Day 3 – On Friday, we managed to walk ourselves the 10 minutes to the day centre without getting lost. The morning was a busy one with non-stop work to finish our task of building a kitchen garden and attempting to turn some rock-hard soil in order to plant the herbs. This paid off with a beautiful-looking garden and just the bio-huerto left to install. Although some of us naturally fitted the roles (Kyle and Sara were clearly carpenters in another life), others were feeling slightly drained (*cough, cough* Ana). There were lots of laughs as Mairi desperately tried to show us clueless kids how to carry out basic gardening techniques- it was a steep learning curve for everyone! However, it is fair to say that after thinking that Rhiann was incapable of carrying a saw, let alone using one, she shocked us all by being by far the best at drilling through gigantic pieces of wood! A well-earned lunch of interesting, but tasty, tuna pancakes was followed by cuddles in the courtyard – some of which almost drowned Aoife. As we left, having not spent as much time with the kids, saying goodbye was very difficult.
However, heading home towards the excitement of a traditional Peruvian meal out made it slightly easier. An exotic assortment of dishes such as; Ceviche, Chicharron de Pescado, Causa, Papa Huancaina, Aji de Gallina and Arroz con Pollo were all received quite differently by each of the team, but . Not to mention the curious corn dish and, of course, the cow heart! And now… we're off to bed!
Mucho amor,
Ana y Rosie xoxox
Saturday 22nd June
Day 4 – 'Prepping and Pork'
Today we spent the morning prepping the classroom walls for decorating next week. This included what felt like an excruciating amount of time sanding walls, our arms breaking with our hair, and lungs, covered in dust. This was followed up by a quick (and much needed) break before moving onto the next room – this carried on for 6 rooms! Some volunteers began to coat the walls in a primer to ready them for painting next week. Simultaneously, some members of the construction team mounted their kitchen garden shelves onto the walls outside. Other members, shoutout to Andrew and Anne, built wooden table and chairs for the children's use. The combination of being rushed for time and being VERY messy, meant a lot of rushing around to get the classrooms back to normal and going to get out lunch from the nearby supermarket.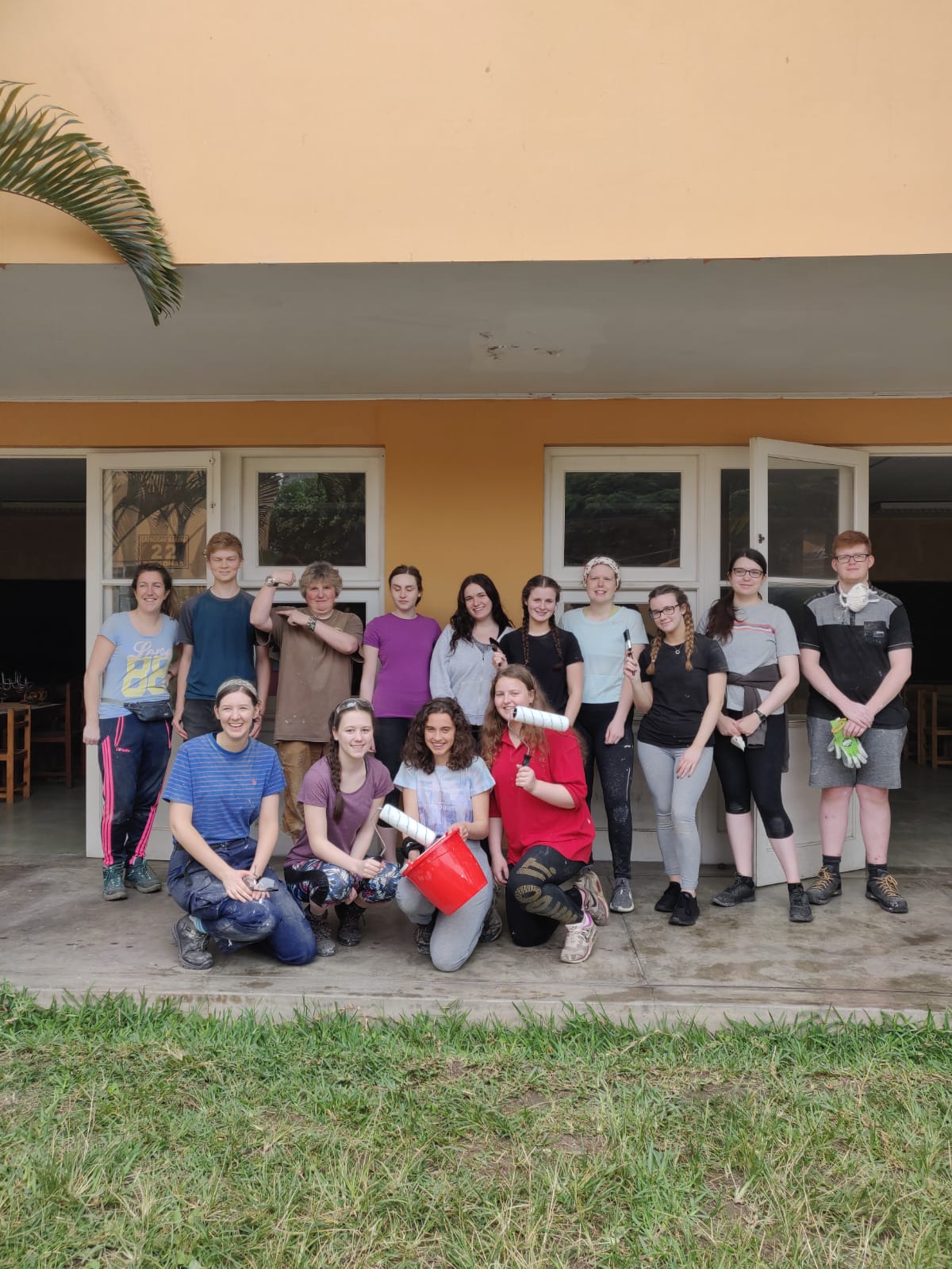 We ate our sandwiches, pizza and very large chickens around the Casa Ayacucho table before being allowed some free time to explore the district of Barranco ourselves. For us, we wandered around our local area, met a very confused Australian couple heading to the Amazon and watched paragliding that certainly did not meet health and safety regulations. Mhari made some soup followed by some delicious Pork for dinner before we all huddled in the living room for a movie night, completed with ice-cream sundaes!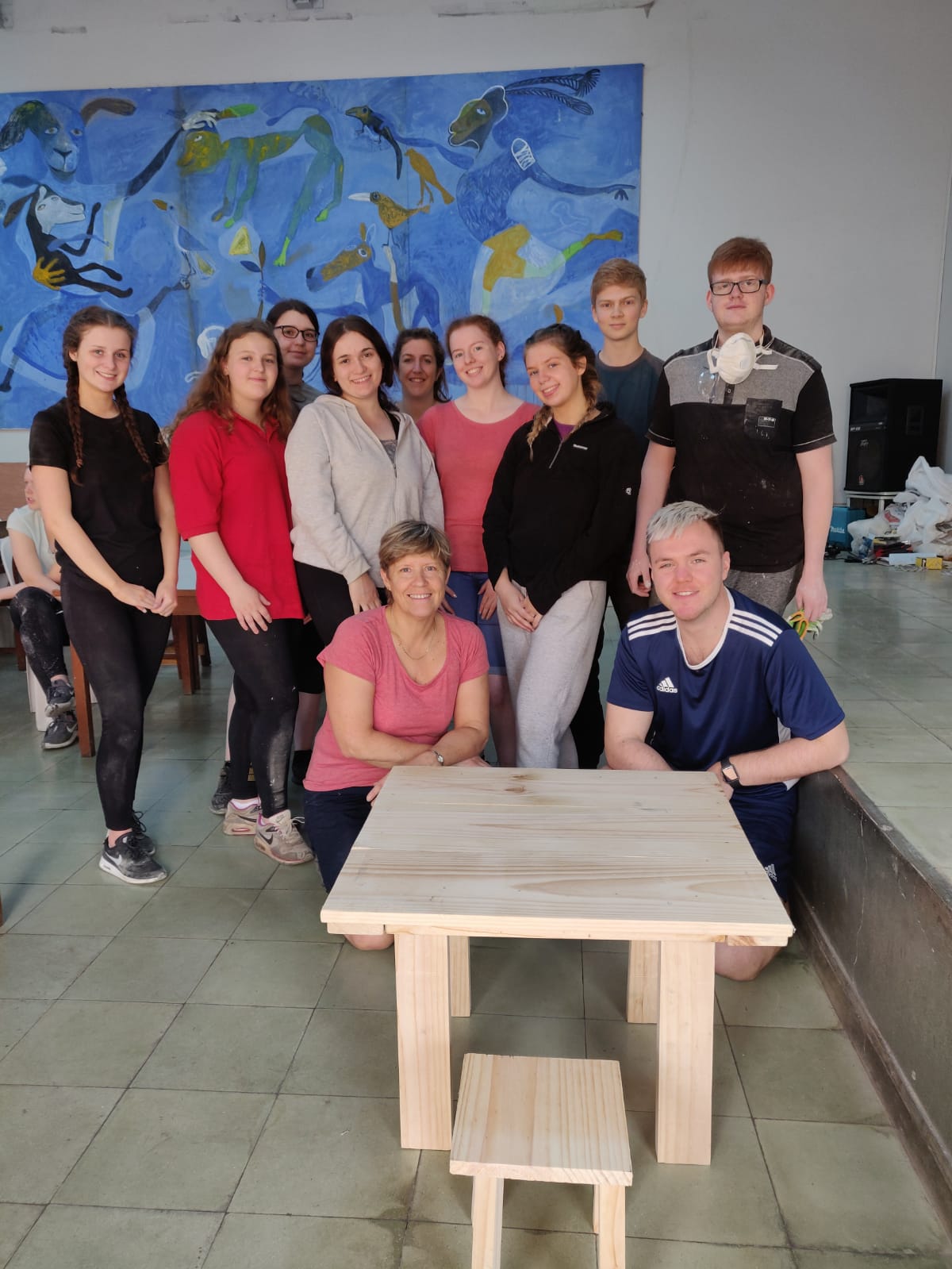 Sunday 23rd June
Day 5 – 'Churros, Churches, Chocolate and Catacombs'
The day started with a slight lie in and a moody and 'waiting' bus driver. We travelled into the centre of the Old city of Lima, where we visited two very grand and opulent churches and even ended up in the centre of a religious festival called Corpus Christi – which celebrates the institution of the Lord's Supper by Jesus and the Catholic belief in transubstantiation. Our time at the festival was largely spent taking pictures of the beautiful, ornate designs made on the road out of flower petals, and chasing the man selling churros.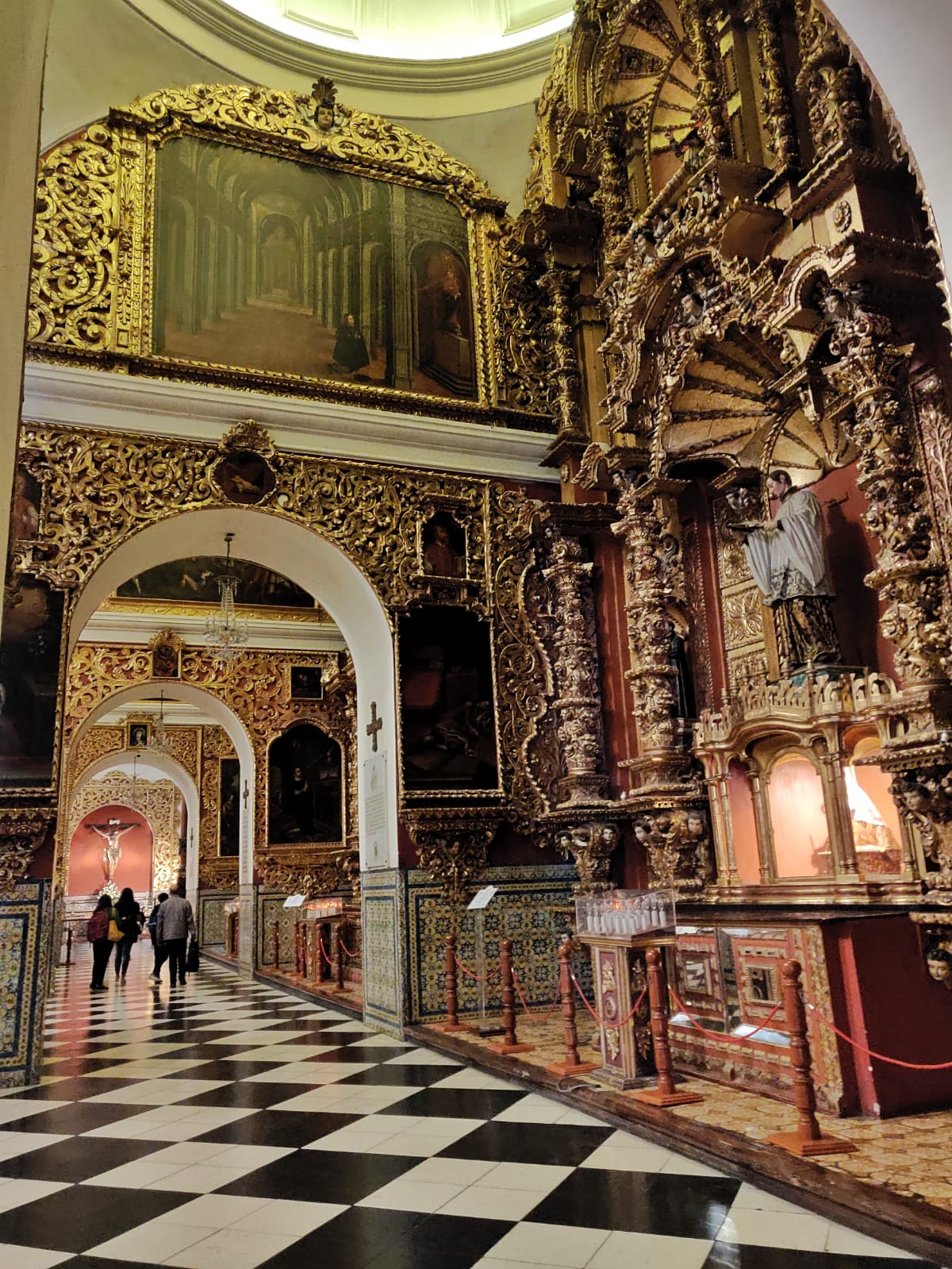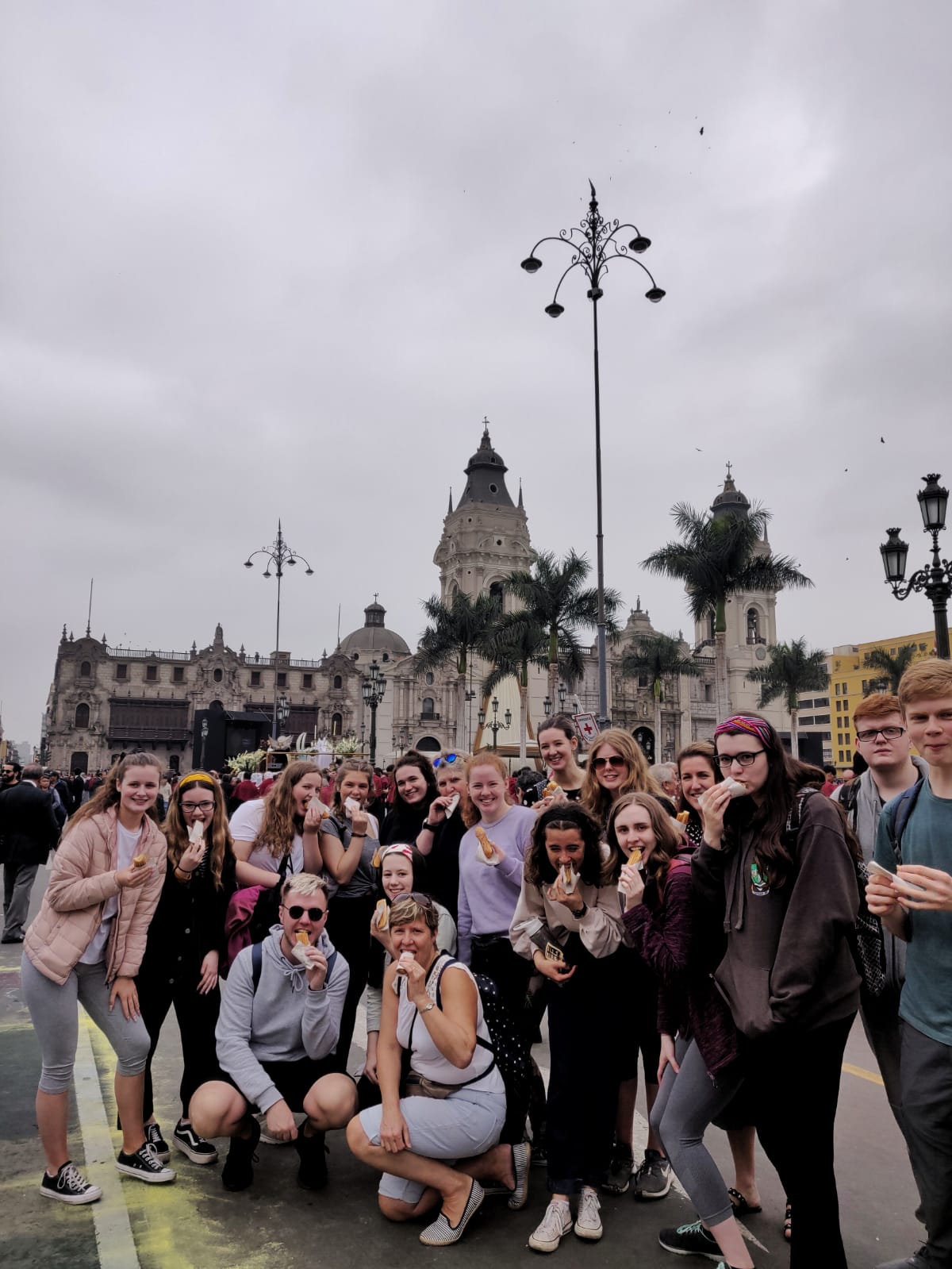 We spotted a chocolate 'museum' (a shop filled with chocolate based products), which looked and smelled amazing! Eventually, we made it to the 'Museo Convento San Francisco Y Catacumbas'. The first 30 minutes here was spent waiting for a tour in the sunshine, surrounded by A LOT of pigeons. Our tour consisted of visiting the old library, church and monks quarters before heading down to the catacombs and the bones of around 25,000 people below. A very hungry group of students and teachers FINALLY made it to lunch, where we feasted on Ceviche, Chicharron de Pescado, Causa, Papa Huancaina and Aji de Gallina again as well calamari, clams and crab. All this with a picturesque view of the shanty town on a mountain behind us. After a frantic run to the bus, we shopped until we dropped at the Inka Market, many Peru Pants were bought, and Aoife gained a new friend, Ande the Alpaca. Kiah made spicy tomato pasta and homemade garlic bread for dinner before we all 'settled down' for a loud game of Uno.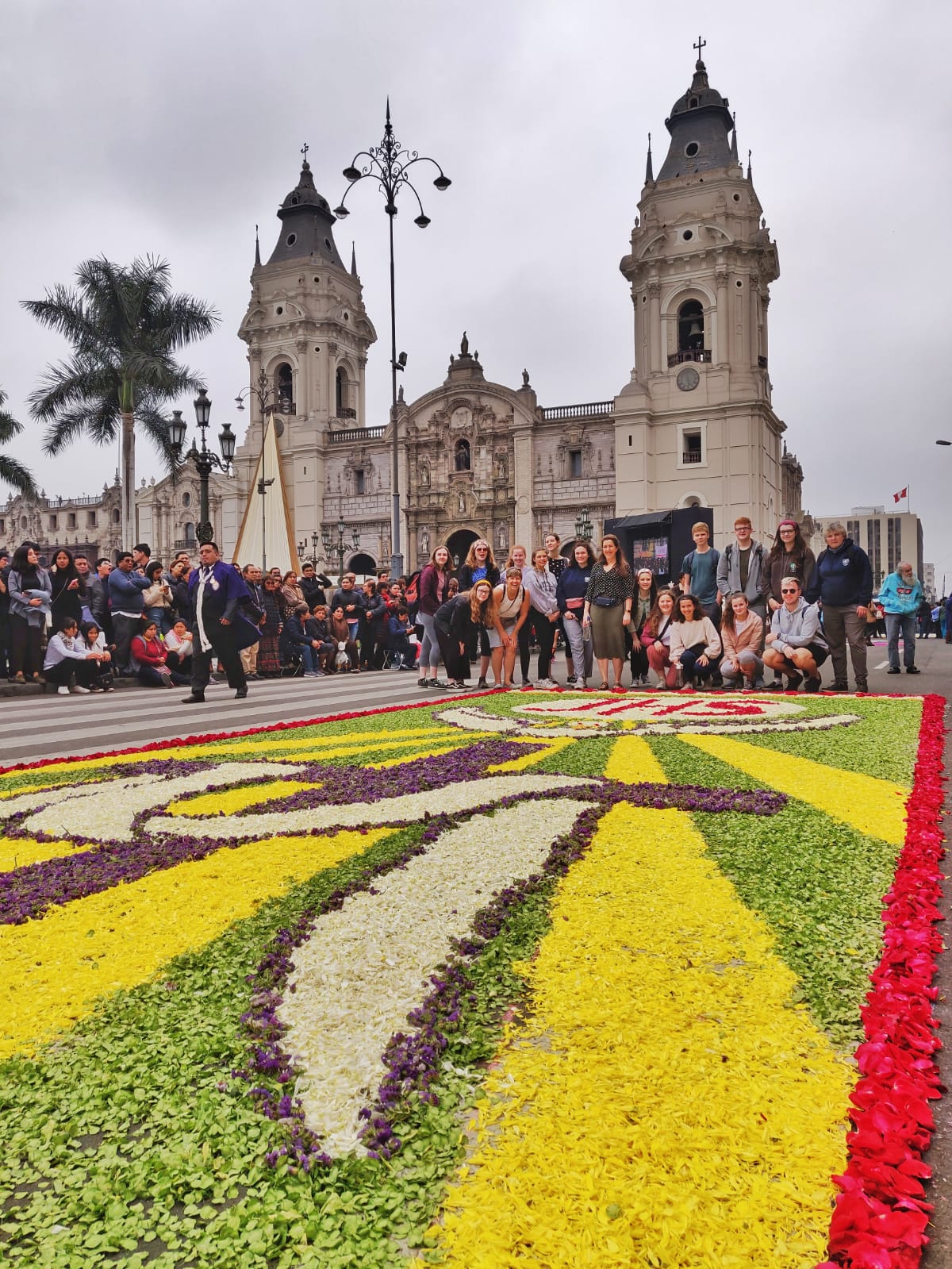 Love from the AH Mod Studs gals – Niamh and Hannah xx
Monday 24th June
Today started with a bus in the morning to Armatambo where we received a tour of Nuevo Milenio by one of the locals, Carmen and her dog, Lyka. We learnt that in this section of the shanty town called Nuevo Milenio there are 136 homes, with up to 10people living per house. Each section of the shanty town has their own communal building which is used to hold events and meetings however, the well-constructed building seemed to be a backlash from their government as the locals pleaded for safe roads and drinking water however, these buildings were prioritised. As a result, they are used rarely. This section of shanty town began in 2000, hence the name Nuevo Milenio which translates to 'new millennium'. Every other area is named after the month they were constructed. Fun fact: instead of slowly chipping away at the rocks in the cliffs, some locals used dynamite as shortcut to create their housing plots.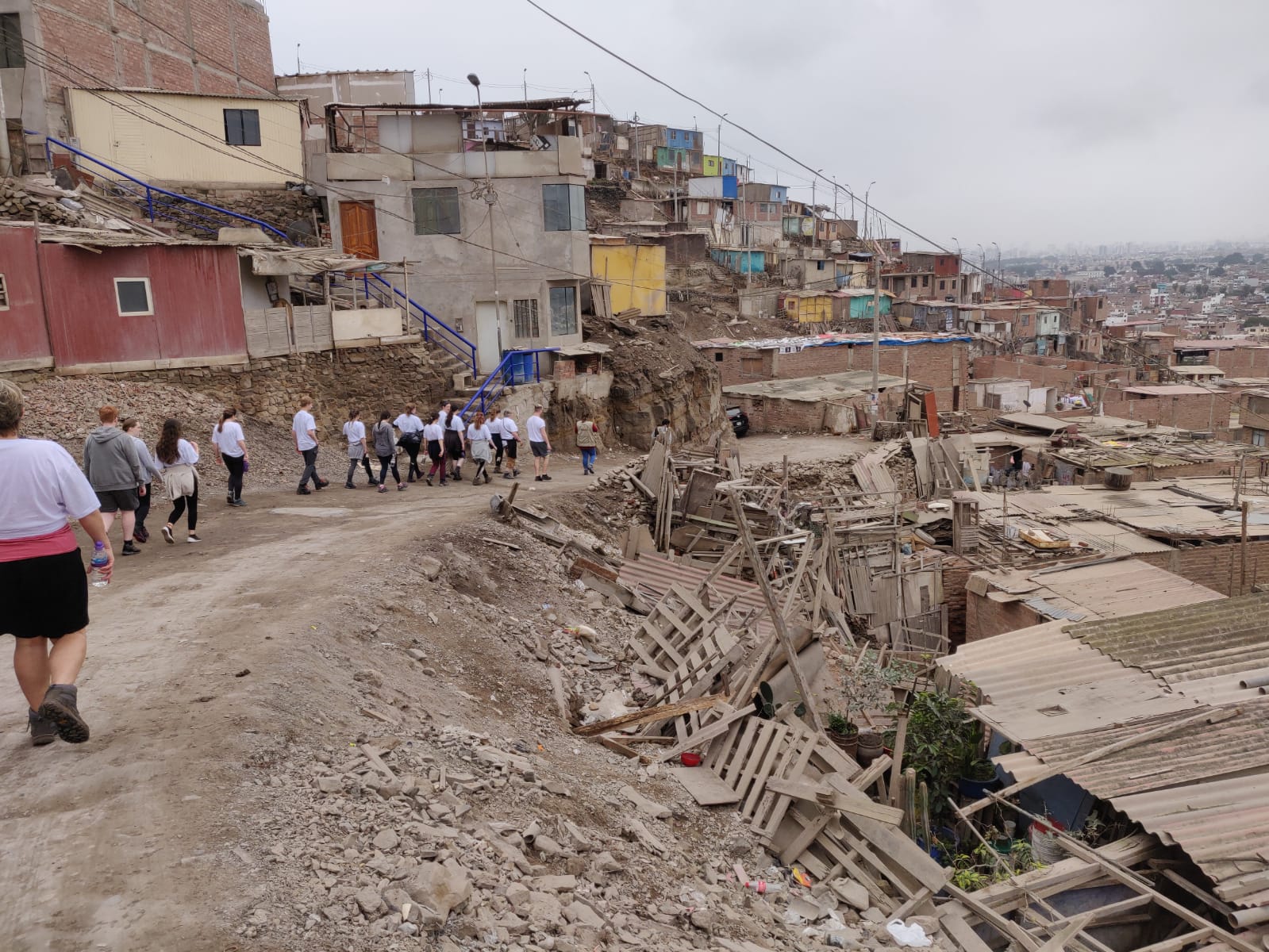 After our tour, we walked the route back to Mensajeros De La Paz in Chorillos which took roughly an hour- many children walk this route twice a day. Back at the centre we got straight back into our work finishing tables and painting bathrooms and classrooms. We also painted and decorated wooden signs with rhymes to promote recycling and collecting litter. We put our tools down at 6pm as we got carried away trying to finish our signs to be put up in Armatambo on Tuesday.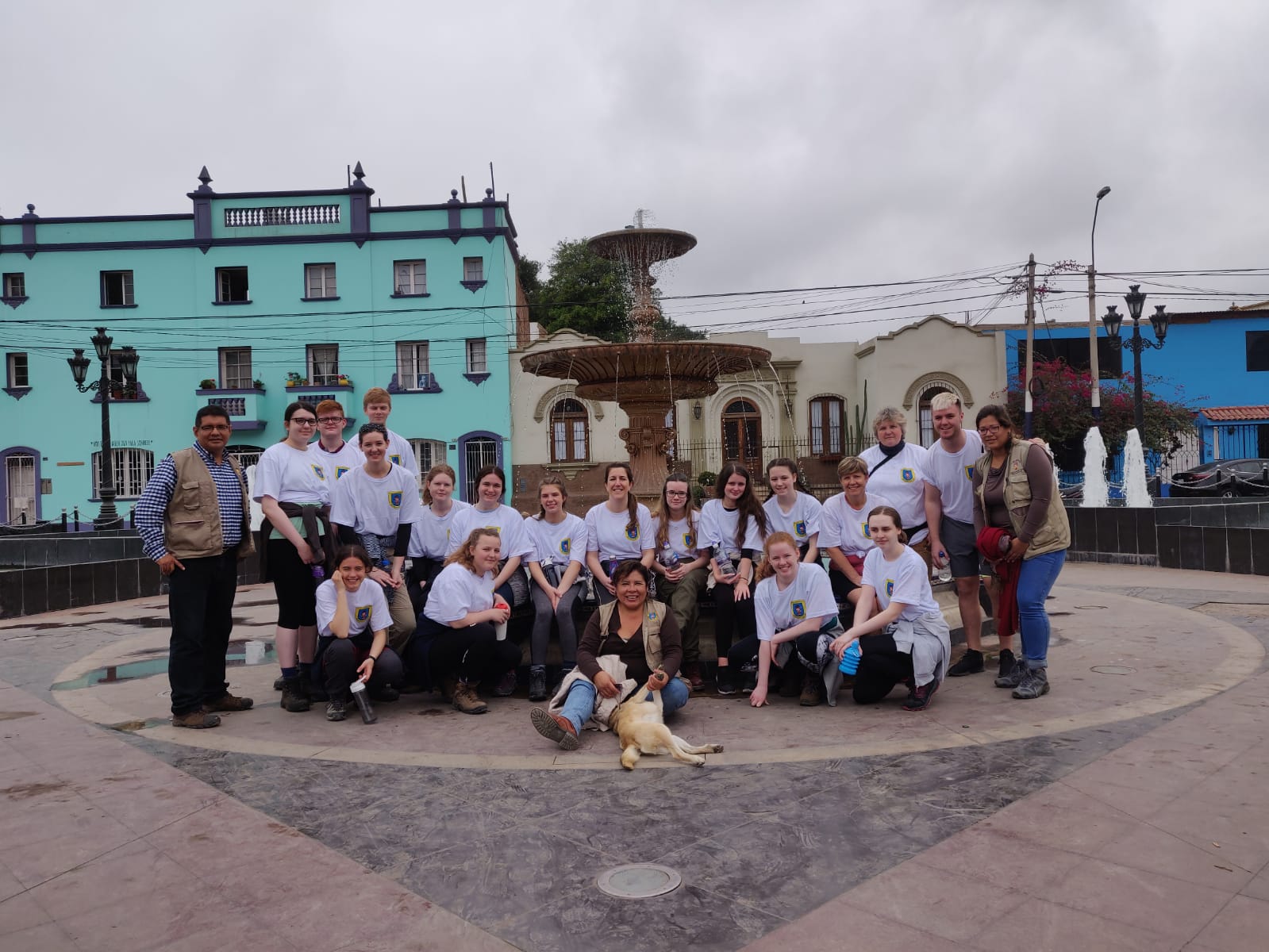 Tuesday 25th June
Today started off with a bus trip to Armatambo while balancing tables, chairs, paint, and rakes and the rest of our equipment on our knees to be used for cleaning and fixing up the area and the day centre. Many of us painted the outside of the room while others completed our painted signs and the rest tidied up litter and dangers from the surrounding area and streets.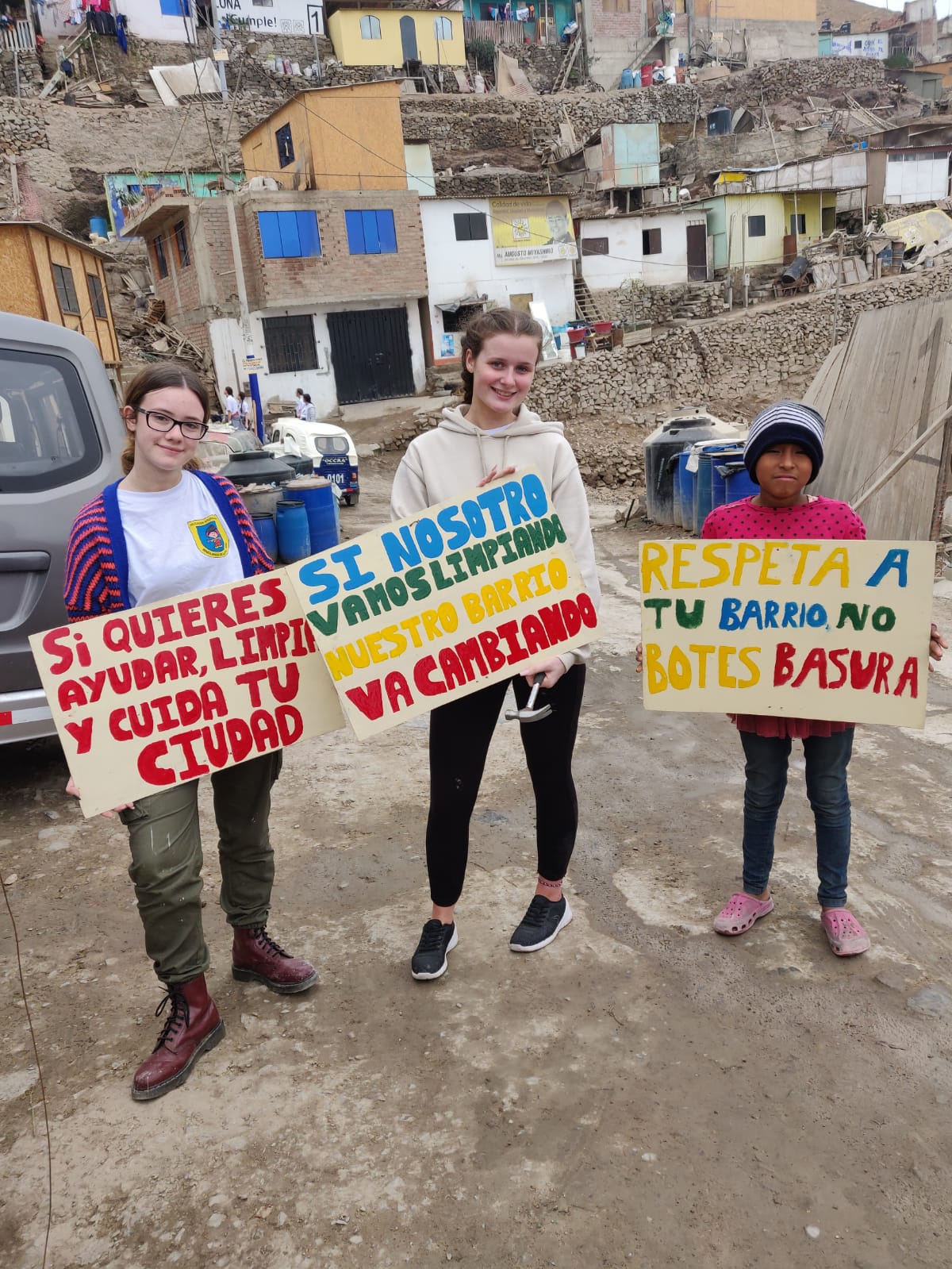 The room wasn't secure with gaps in the roof, holes in the door and damp in the ceiling. As the building is not secured to the ground we made an attempt to push it back into its original place as it had moved itself over time. Many locals watched with gratitude as we helped to clean up their neighbourhood. Mhairi and Kiah built a make-shift fence at the side of the day centre to create a safety barrier beside the sheer drop.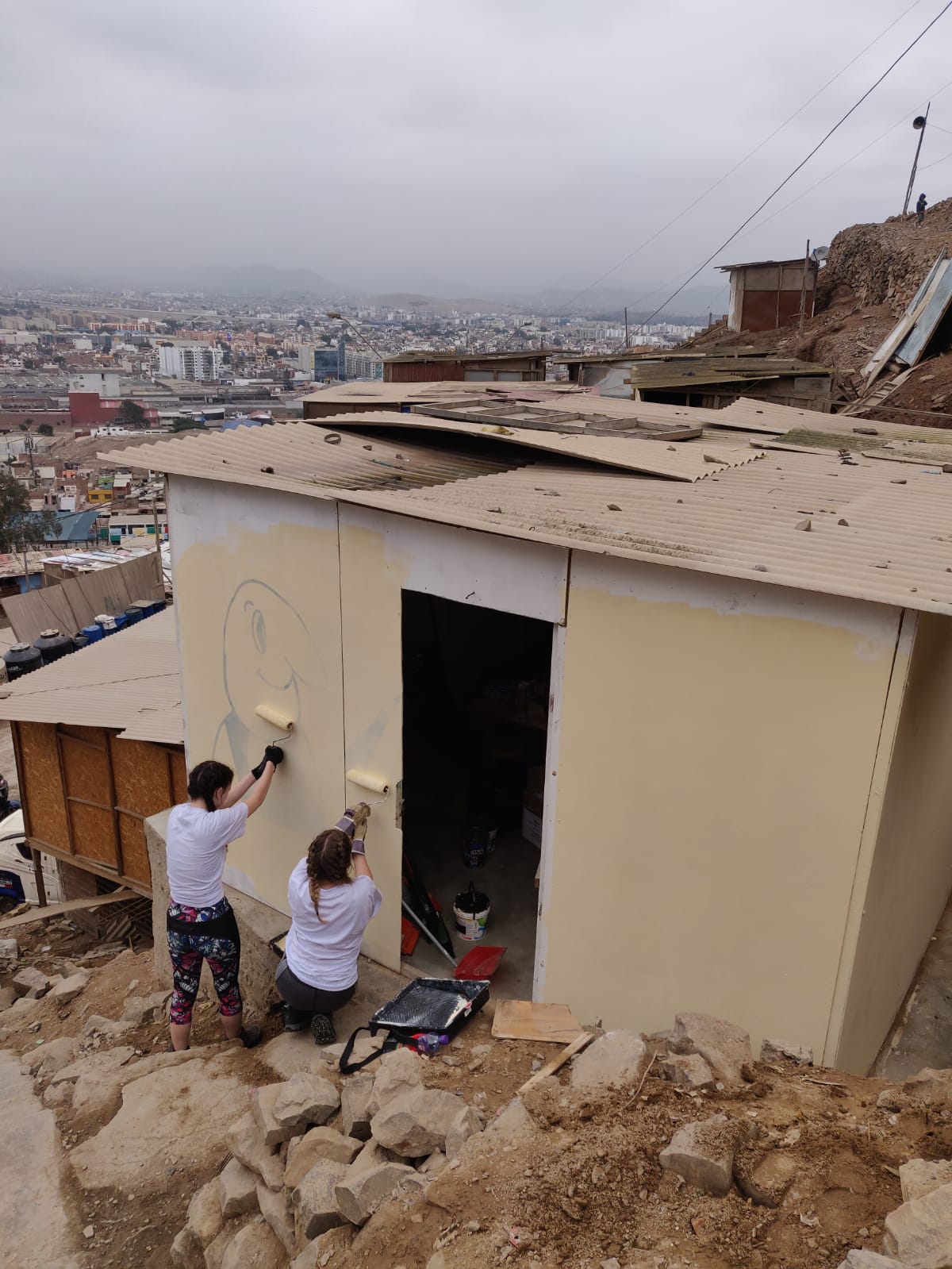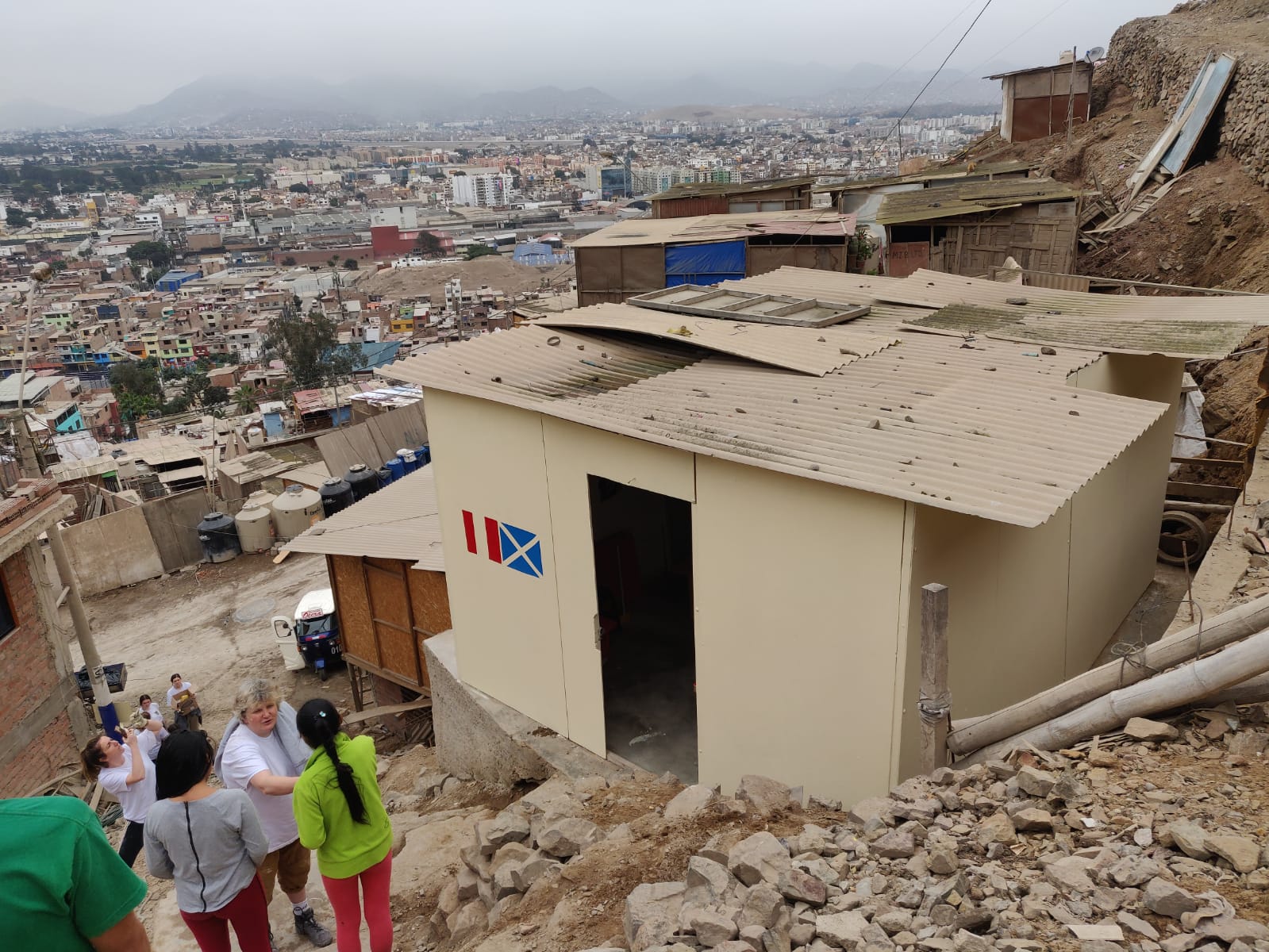 Just before the bus arrived we took turns to visit one of the family house which featured 5 rooms separated by cloth, wood and tin. There was even a room for their guinea pigs and chickens, alongide their mototaxi. The chickens and guinea pigs will be eaten at one point.....! If the neighbourhood in itself wasn't eye opening enough; the house gave us a reality check of how this family and many others live. Today was a mentally and physically challenging day but we returned to the house for home-made burgers to help us recover for the coming days.
Lauren & Sara <3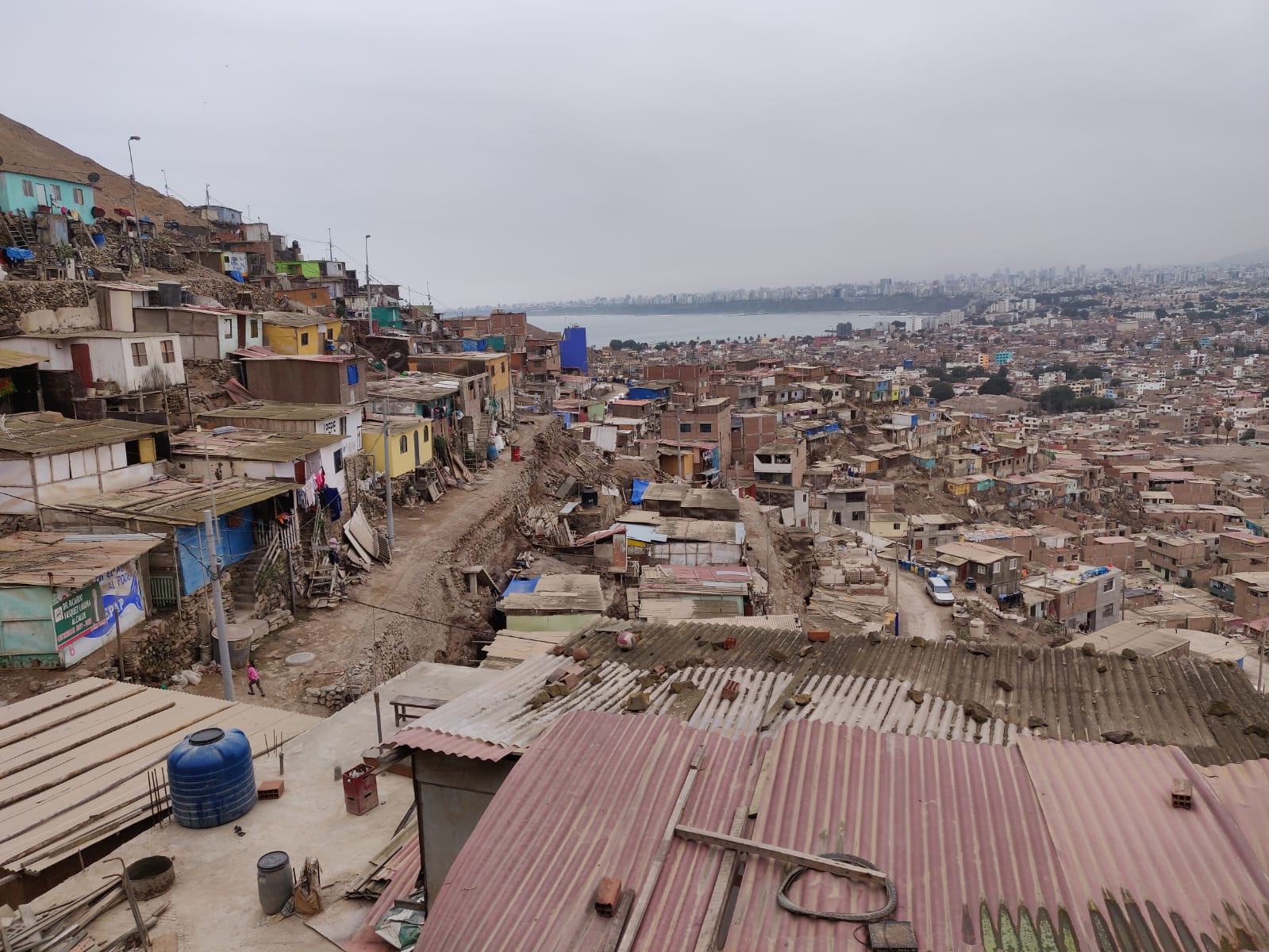 Wednesday 26th June
We woke up and got on de boots. A trip to the LUM place of memory, tolerance and social inclusion, informed us of the internal conflicts that had plagued Peru from 1980-2000. News of this alarmingly recent violence and terrorism had not reached our Western ears. Next we exchanged money, and made a beeline for the Inka markets, where we spent what might have been minutes or years deliberating over stripy trousers, being offered questionable bargains and where certain members of our group may or may not have lost all sense of time, space and existence and had to be retrieved by the still-patient and smiling Louise.
Trusted with another wander along the streets of Barranco, some of our group bumbled over to the plaza, across the love bridge ( breaths-held), to the sounds of the serenading Peruvian Freddie Mercury impersonator. With some over-priced, non-authentic Peruvian Frappuccinos' in hand, we played cards, whilst trying out an inflatable snakes and ladders mat for the children at the school.
We then headed back for a mysteriously early dinner; as it turns out, all was carefully planned around a surprise trip to a beautifully lit night-time tour of the Inca ruins. By now, near-experts in Peruvian public bus travel, we managed not to fall on any unsuspecting locals, instead singing Billy Joel's Piano man with a fellow passenger, all the way home.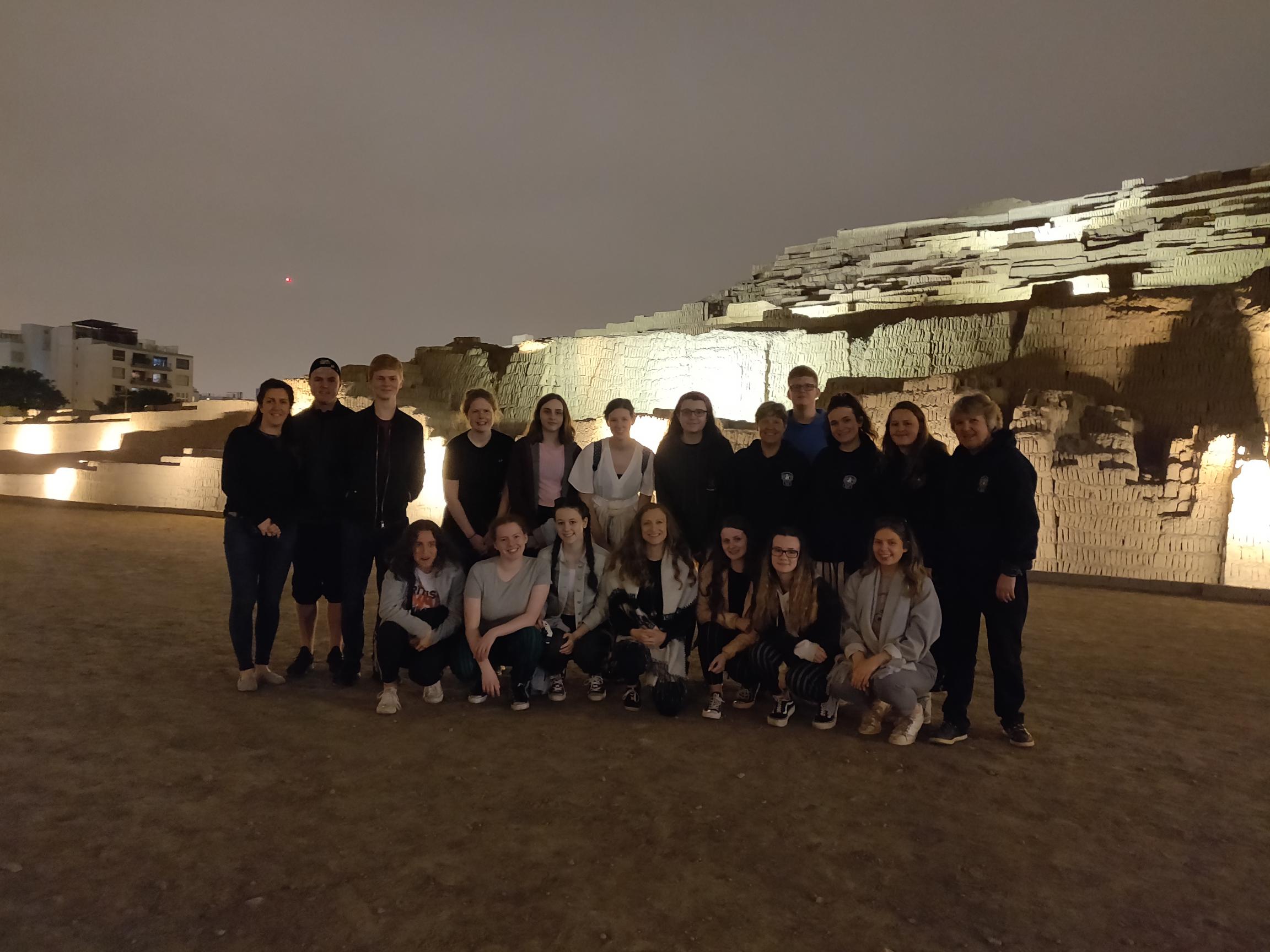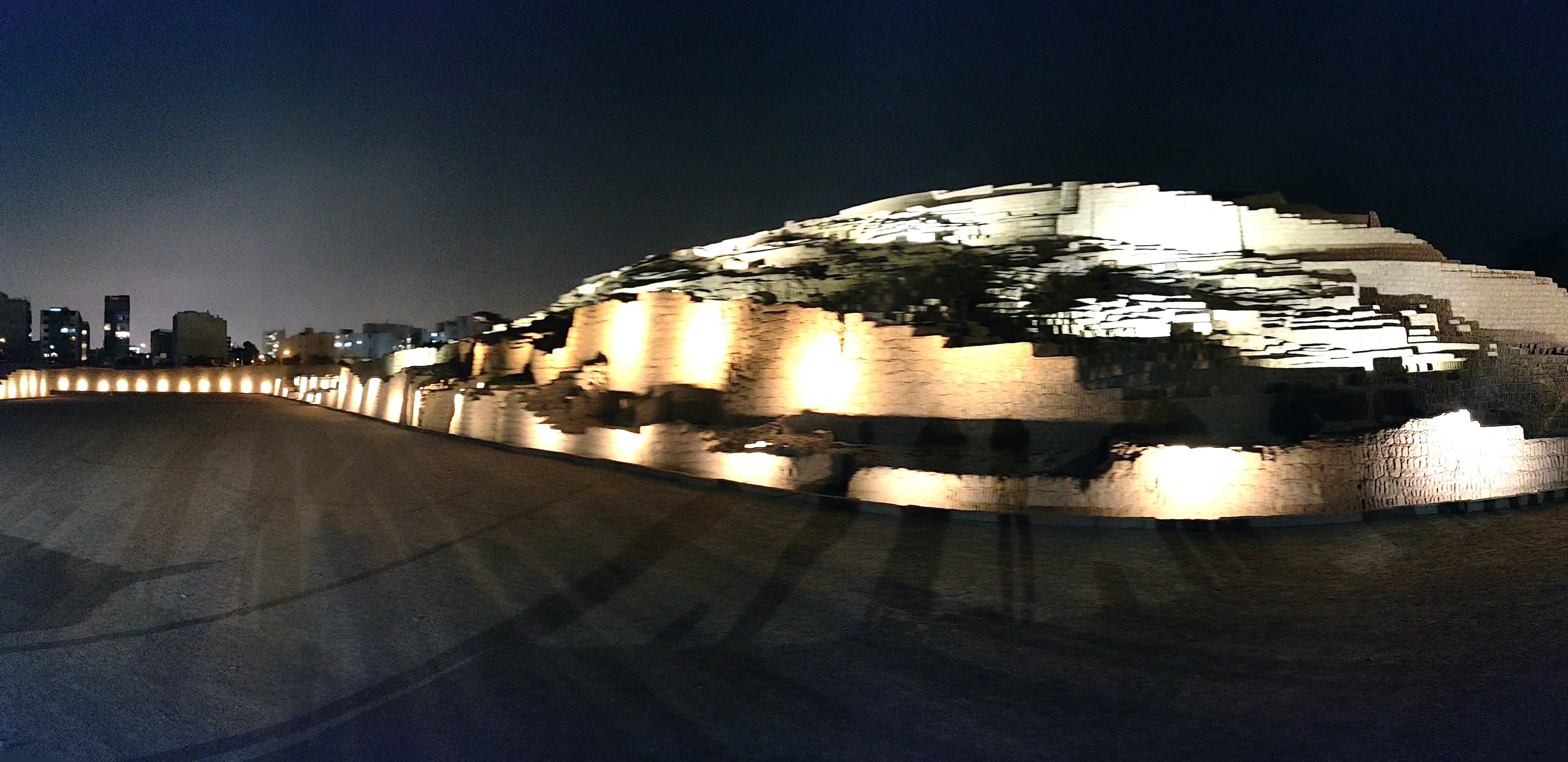 Catherine F & Rhiann xxx
Sunday 30th June
We had an early start to the day on Sunday for going to Machu Picchu. We had breakfast then had a bus journey which took around two hours. Then we arrived at the train station; the train journey took us round the mountains and through tunnels which was amazing and then it stopped at the last train station, Aguascalientes. Then we boarded a smaller bus which took us up a twisty road which showed us great views of the mountains around the area. The bus dropped everyone off at the entrance to Machu Picchu.
We split into two groups and each group had their own guide. We had to climb a set of steps to get to the top and it wasn't that easy; we were all out of breath by the top and the view was even more breathtaking.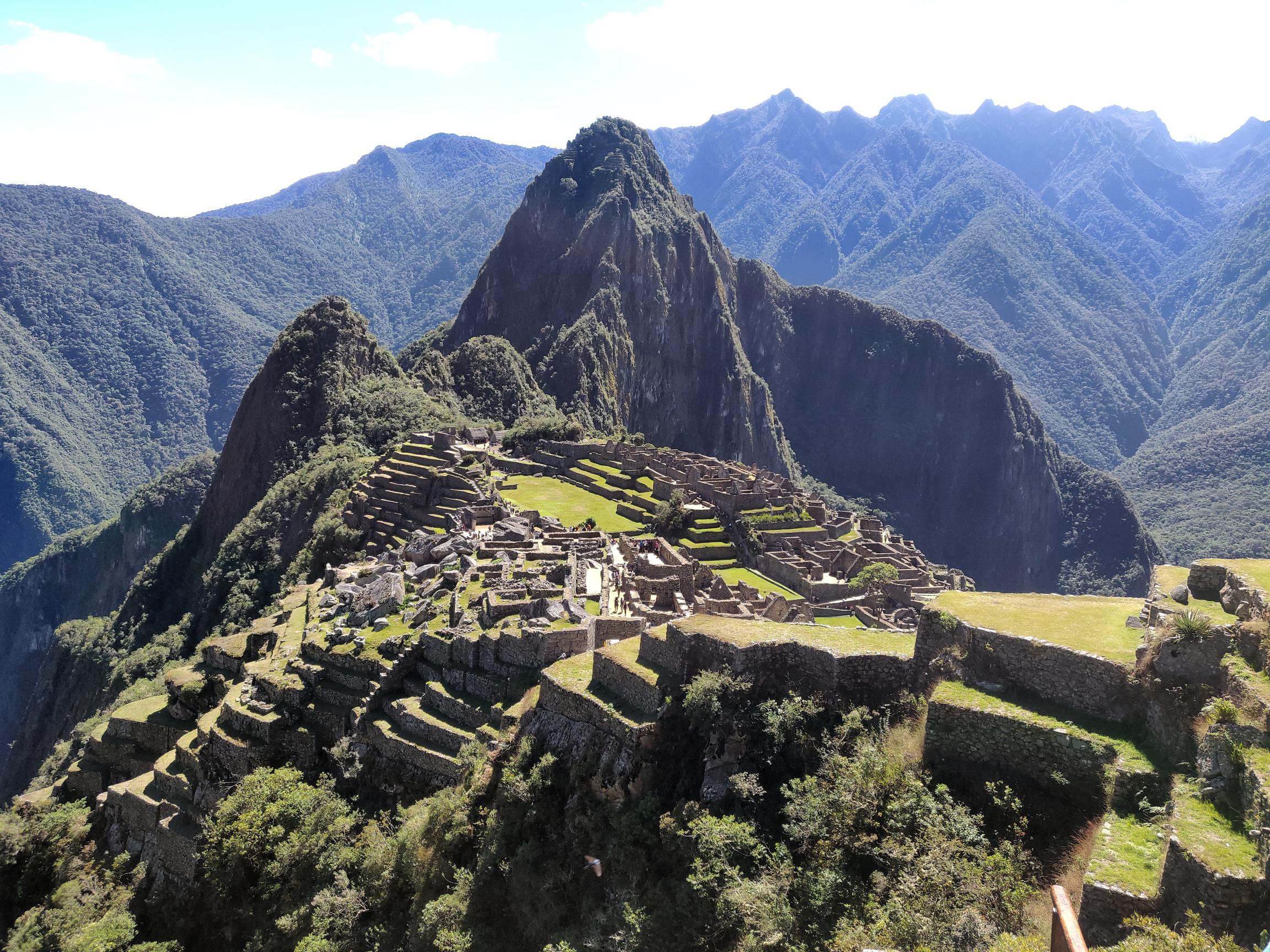 We got photos with the mountains and ruins behind us and also got some very interesting information from our guide about the village. He took us round the entirety of the ruins and showed us the best spots for pictures. We got to see where the Incas grew their crops, where they lived and where they kept it to keep it fresh. We also got to see the man-made tunnels made by the Incas and the different worship areas for them to use.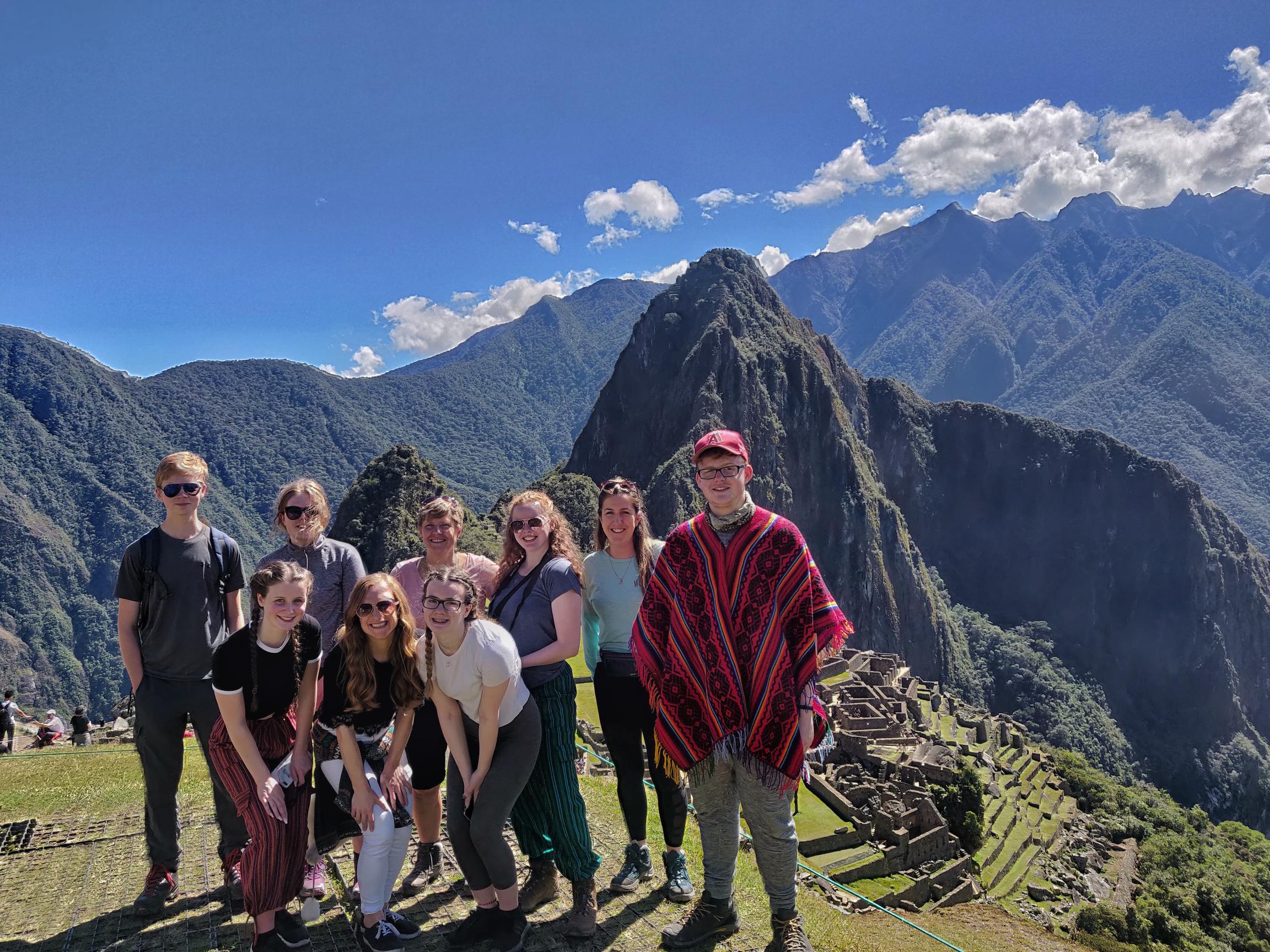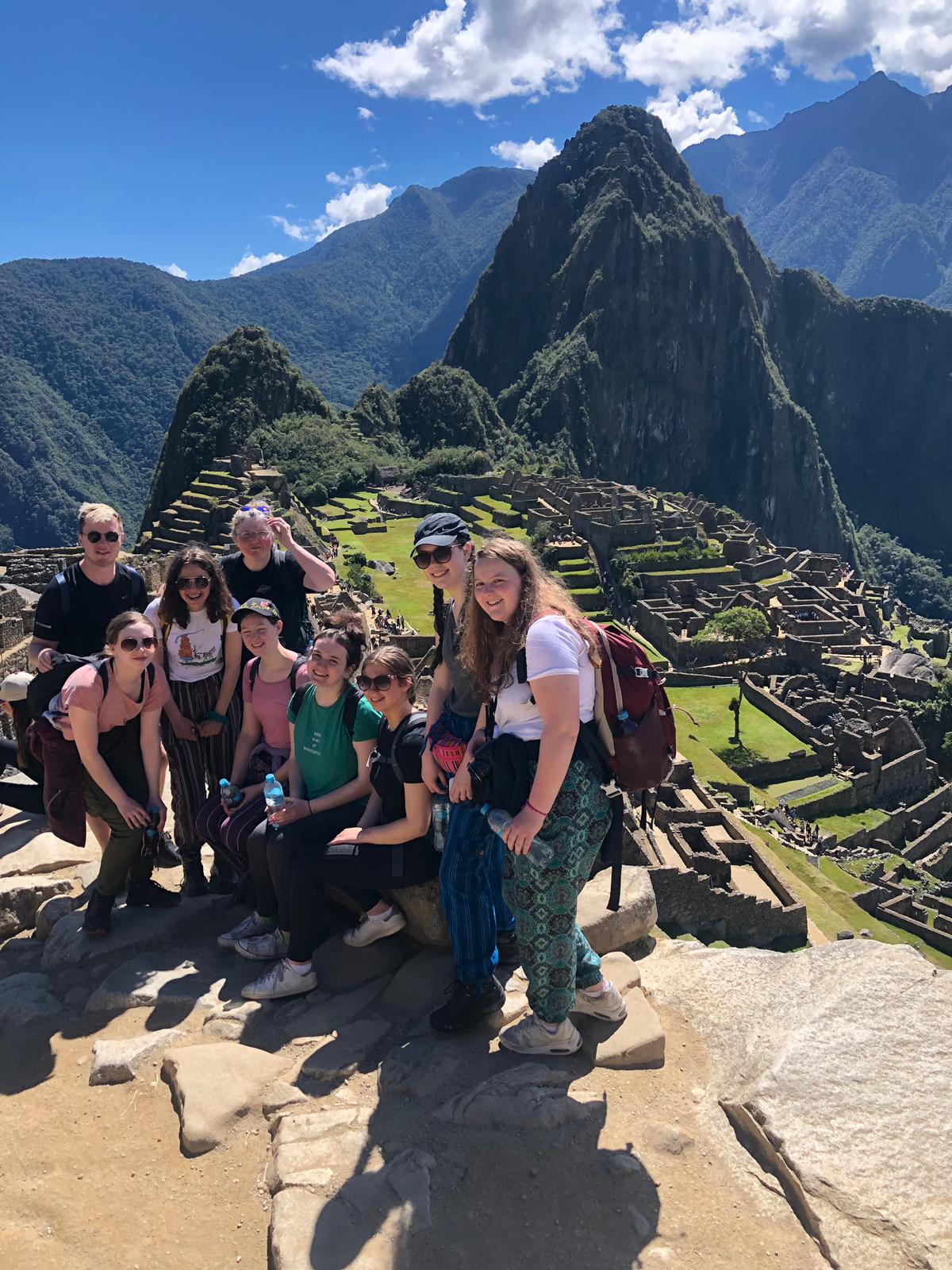 At the end of the tour we got our passports stamped with the Machu Picchu stamp and then we climbed back onto the bus which took us back down the mountain and into the town below. We stopped to have a nice lunch and then we got a chance to buy any last-minute gifts or things for ourselves, then it started to rain. Once we had gotten everything we wanted to buy we all gathered to board the train and some thunder could be heard.
On the way back on the train we couldn't see anything outside because it was pitch black and then we boarded back onto the bus and we were gifted with a tasty dinner. We stopped on a dark road and we got out to see the entire Milky Way above our heads. It was incredible!!! Then on the way back still on the bus you could still see the stars so clear you would have to blink just to make sure it was real. By the time we got back to the hostel we were all pretty tired but it was some day, and I don't think many people can say they've seen seen Machu Picchu and the Milky Way in the same day.
Ben