Saturday 3rd November
Jambo from Moshi!
The travelling day for the international Babcock team first started for the three Victoria-based employees, who had an internal Canadian flight to Calgary before a nine hour flight to Amsterdam to meet the rest of the team. The rest of the team from Ottawa and across the UK successfully got to Amsterdam on time, although not without some stress for the nine flying from Bristol - a missed connection looked certain after some technical issues with the aircraft, but we all made it safely! After slowly making it through Kilimanjaro airport, we received a warm welcome at Umoja Lutheran Hostel in Moshi, and it was time to catch up on some sleep after dinner!
Sunday 4th November
Sunday started with a team orientation delivered by our leader, Eilidh. After lunch the whole team set off to meet one of the families that will receive a newly-built home.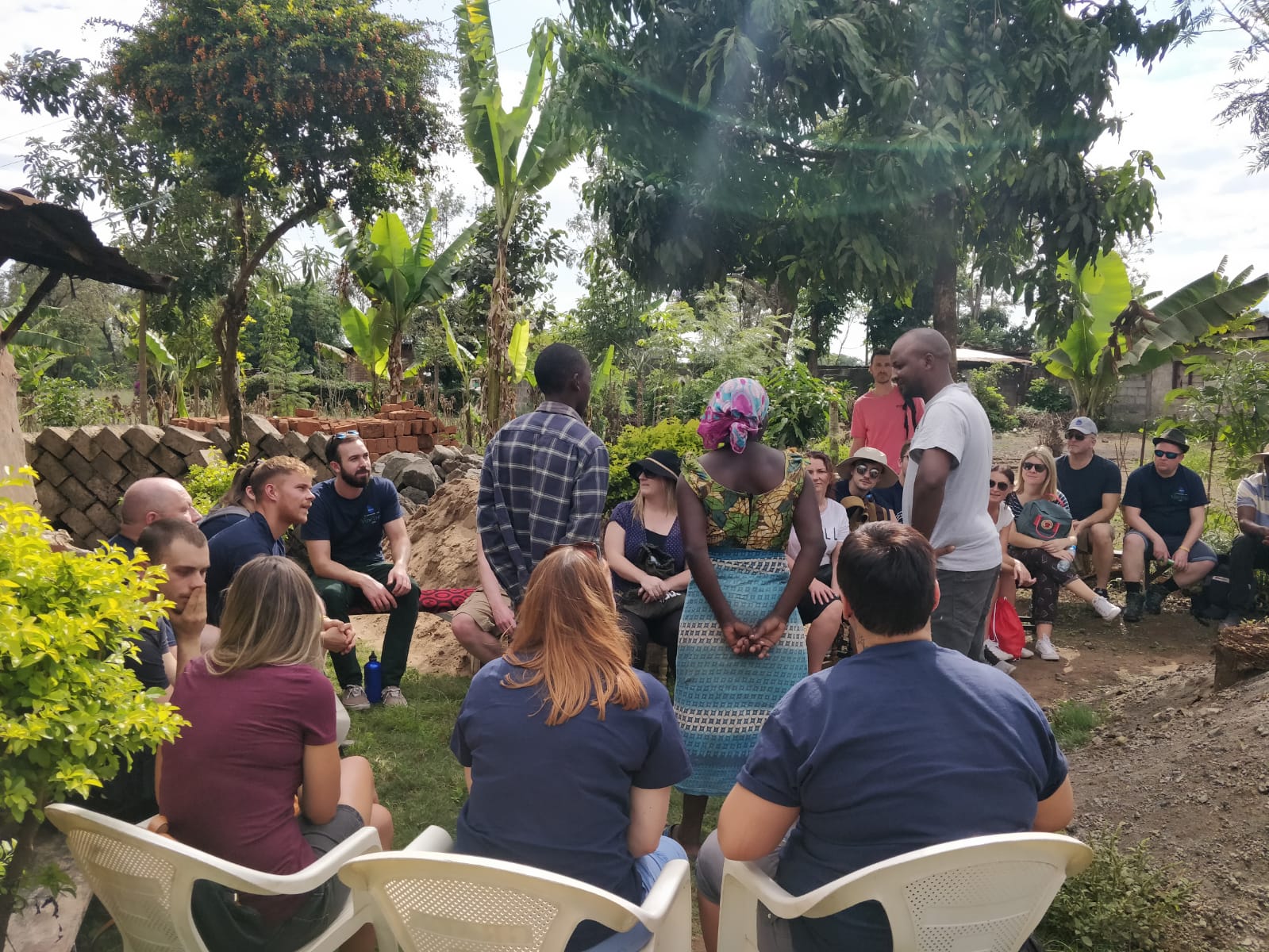 Eunice and her 17-year-old son Kelvin gave us a very warm welcome to their small and dilapidated home. We were told of the hardships that they had faced, including losing the father of the family. Through their bereavement, poverty and hardship they were still very positive, optimistic, and so grateful for the work that we would be doing. The visit was incredibly motivating and the team were itching to get started on the build the following day! After dinner back in Umoja, we were given a Swahili lesson by Elly from Vine Trust, which included learning a song that we will sing for TAWREF tomorrow morning!
The team are all very motivated and excited to get building houses tomorrow to change lives and give families, including Eunice and Kelvin, hope.
James
Monday 5th November
Day 2 in Moshi started with breakfast at the hostel and breaking up into three teams for the worksites. We left the hostel for TAWREF (Tanzania Women Research Foundation), an amazing organization that focuses on equality of women, reproductive health, HIV/AIDS education, women's banking and property rights, and many other areas that are changing the lives of thousands of families in Tanzania. TAWREF partners with Vine Trust and identified the families who we are building houses for. Vine Trust and TAWREF have built 116 homes (including our project) since 2012. We finished our meeting at TAWREF with the staff singing 'For He's A Jolly Good Fellow', it brought tears to our eyes after learning about the dire need for shelter of the families we were about to meet.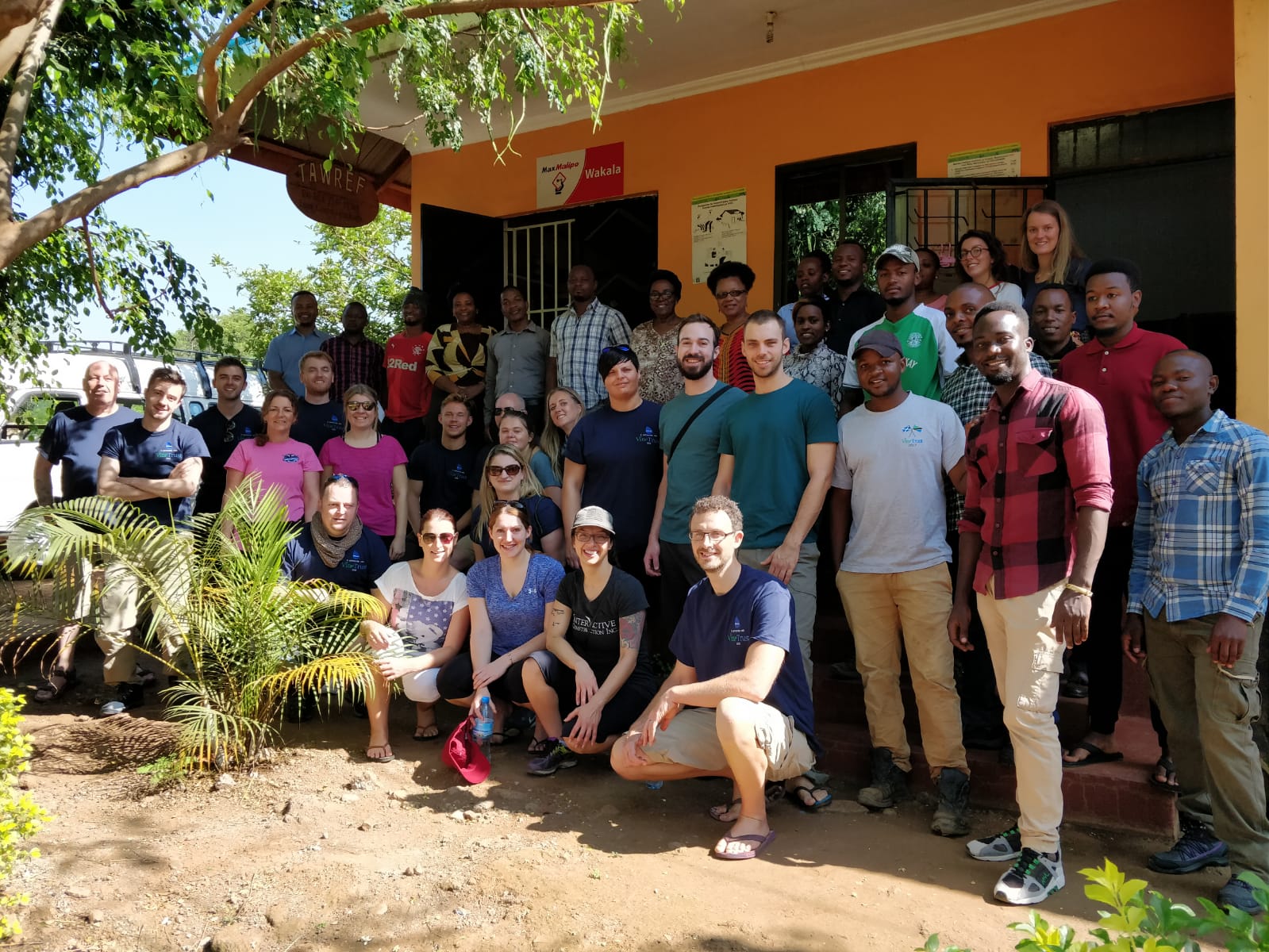 The three teams broke off to head to their work sites and meet the neighbours, local builders, children, and families that would become our families over the next two weeks.
At John and Jonas's house, the team met with mama John and were shocked at how small her home was. It consisted of one room (8'x6'), two beds, and that's it. The home was falling apart and made from sticks with many holes and a tin roof that was prone to leaking. This family lives in the Marangu region which has two rainy seasons and is located high in the mountains. The neighbours were very excited to watch the mazungu (white people) work and build this family home. When times got tough on the site we broke into song and dance, led by our Vine Trust coordinator and featuring local songs. Although we were extremely tired and not used to such difficult physical labour we couldn't help but laugh and smile as we passed rocks to one another, shoveled dirt, and made friends with the local fundis (builders).
Jennilee
Tuesday 6th November
An early start to Day 2 with overcast skies threatening rain. Clouds were soon burnt off though returned throughout the day bringing welcome spells of shade.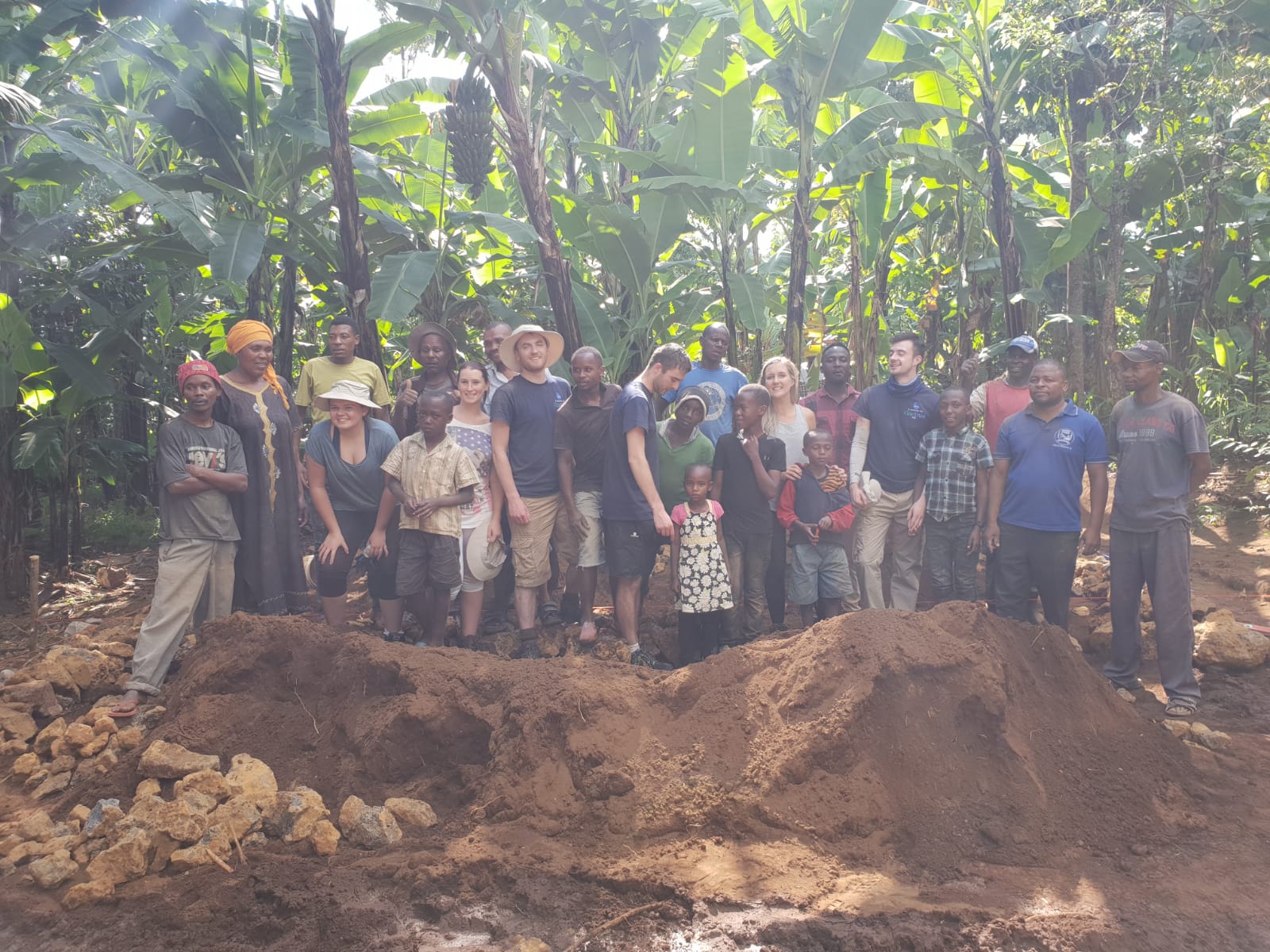 The three groups returned to their house sites to build on yesterday's work. By now the fundi's are much more comfortable giving us instructions and the local children immediately came to exchange smiles and fist-bumps.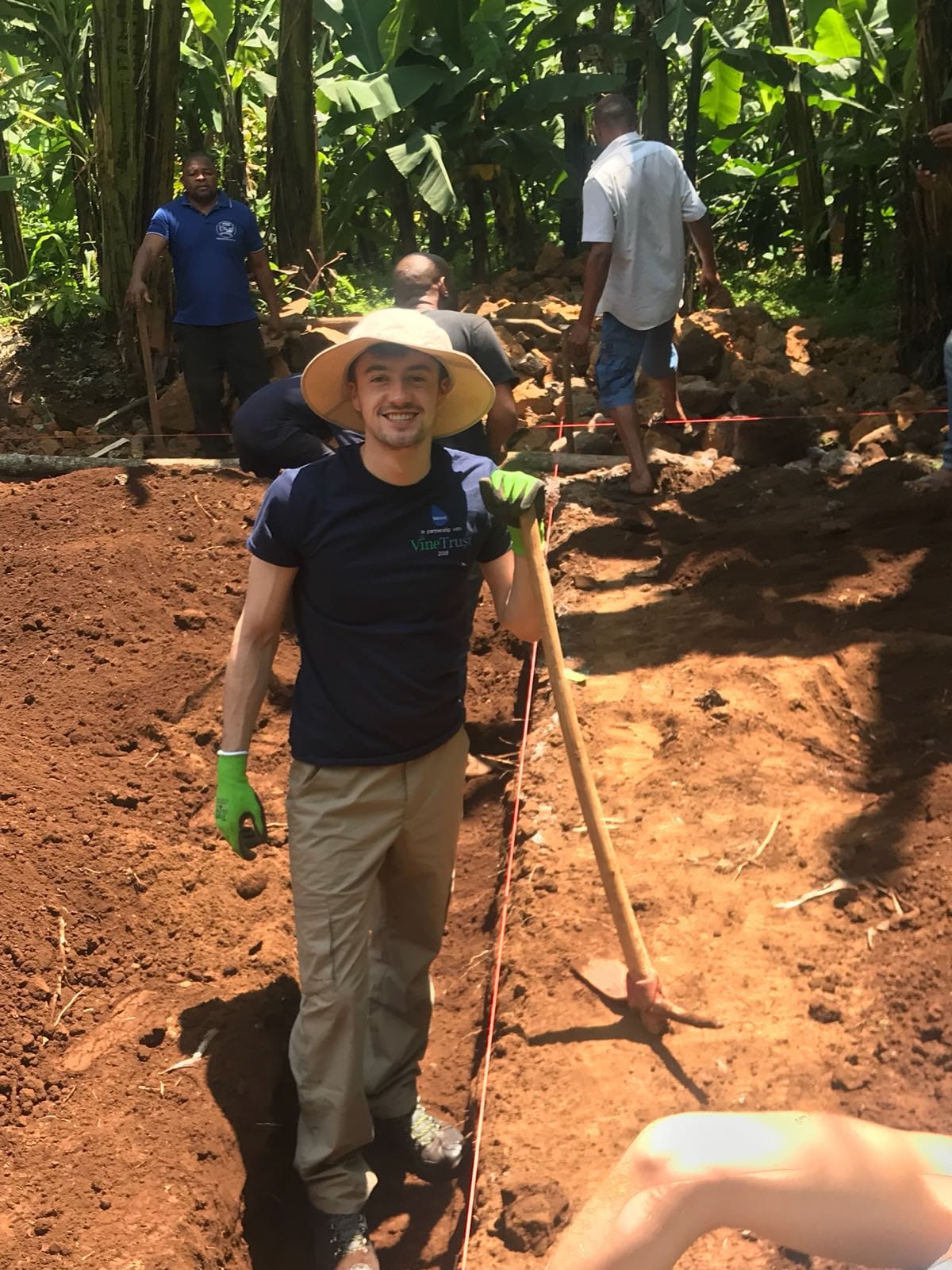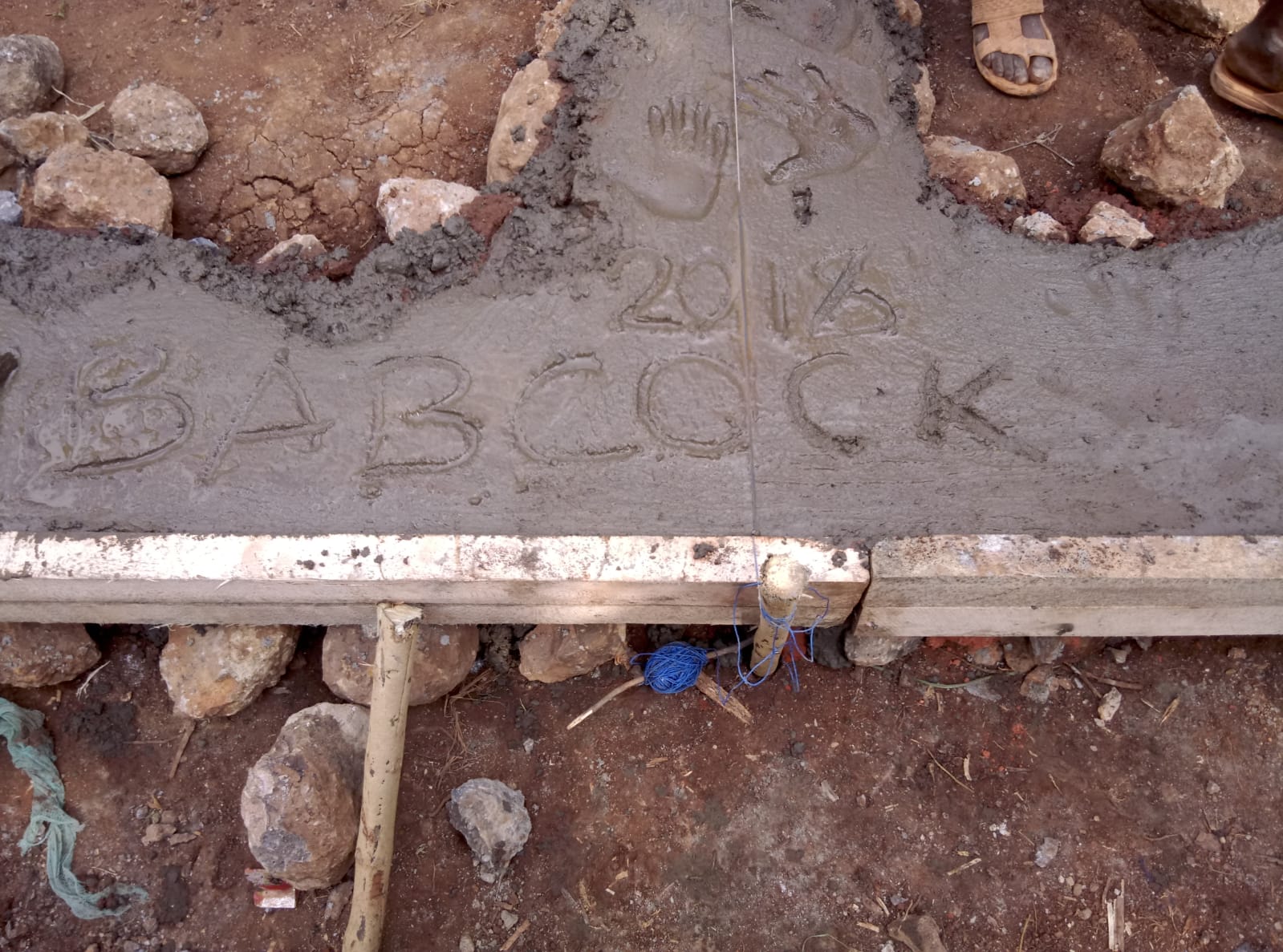 Work on the sites consisted of building on the foundations with the separation of the rooms beginning to take shape. Cement was mixed, bricks and wooden planks were carried and songs were sung. A lot of songs.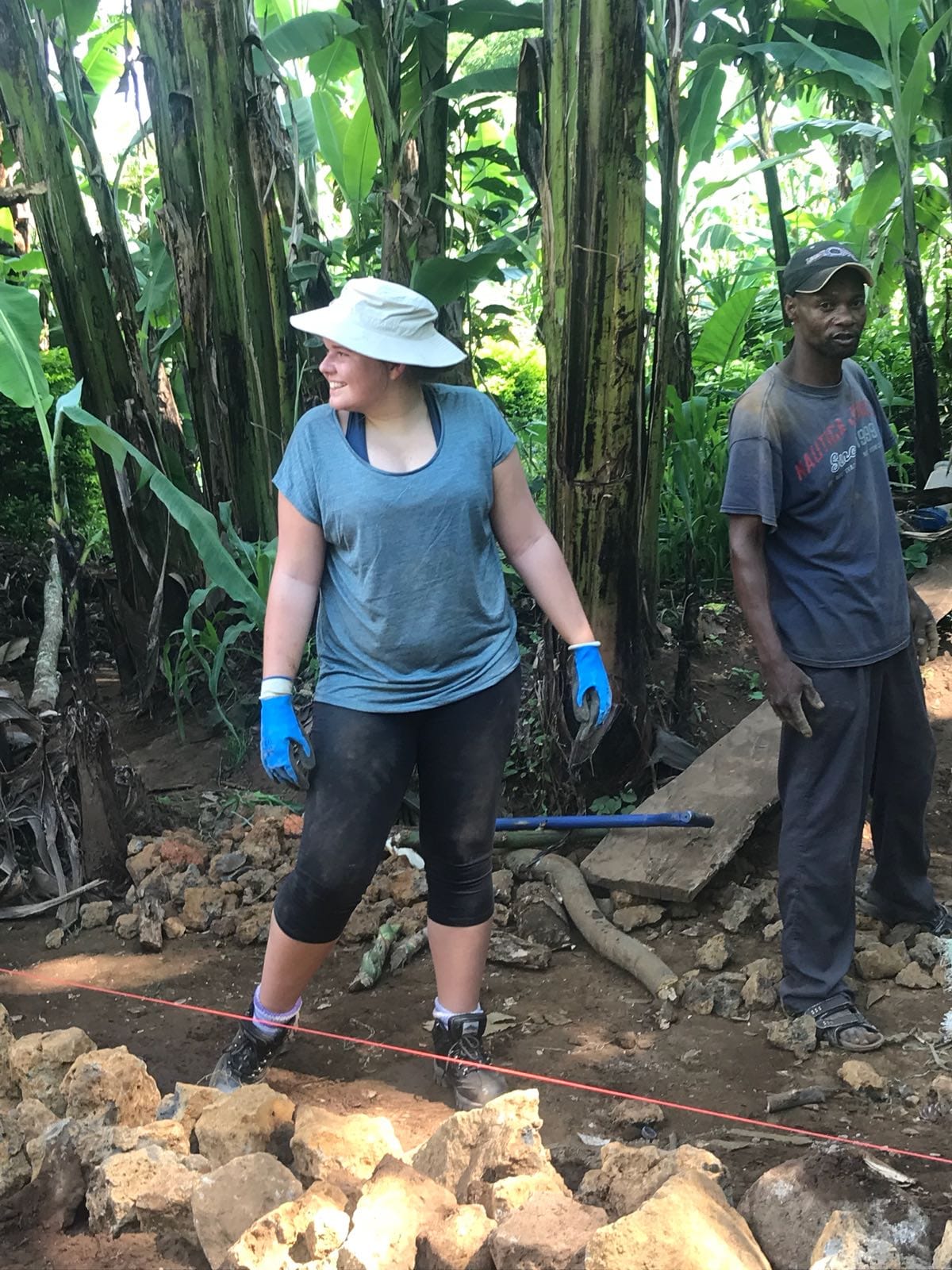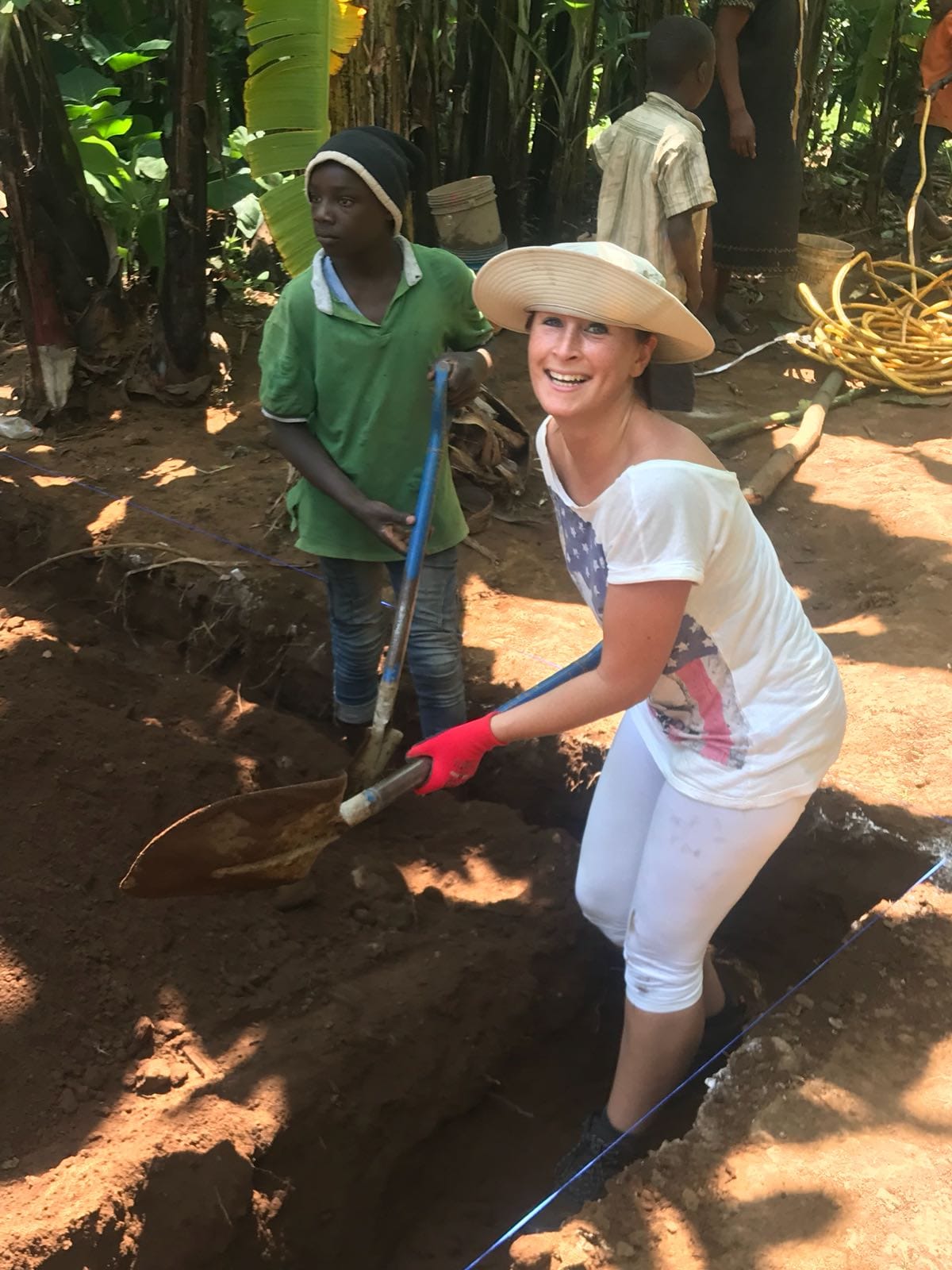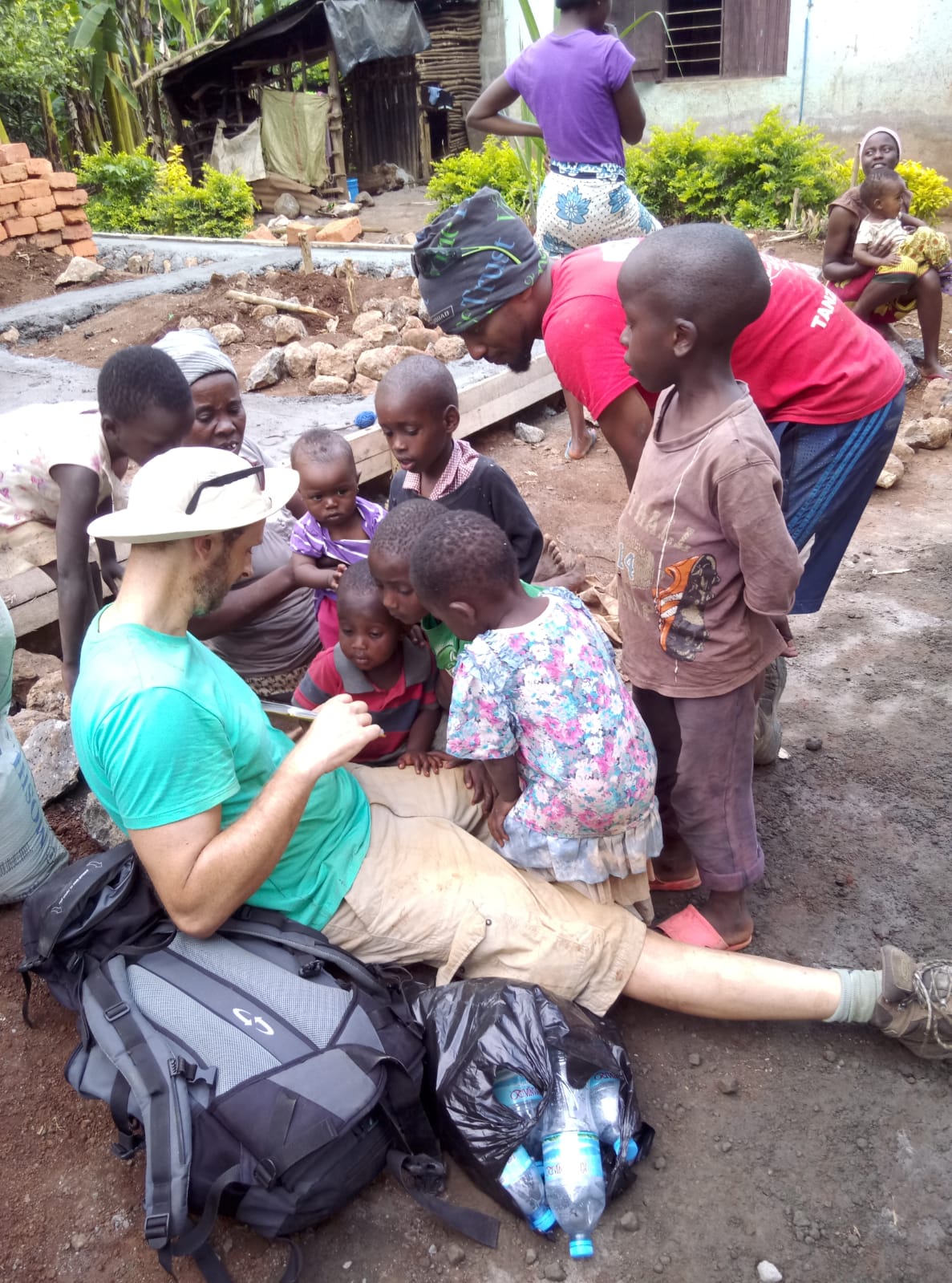 Highlights for the day included learning a dance to stp down earth for the floors, playing football and balloons with the local children and one of the neighbours wives handing her baby to a volunteer so she could help by carrying three large bricks .... on her head.
Stuart
Wednesday 7th November
"BEST. DRIVE. TO. WORK. EVER.
With DJ Abu handing over the decks to DJ GJ (George Jones), all thoughts of tiredness and aching bones were a distant memory as soon as we were on the road.....
Add to that the fact that the detour Abu and Benni organised afforded us sensational views of Mount Killimanjaro, we arrived on site ready to do business......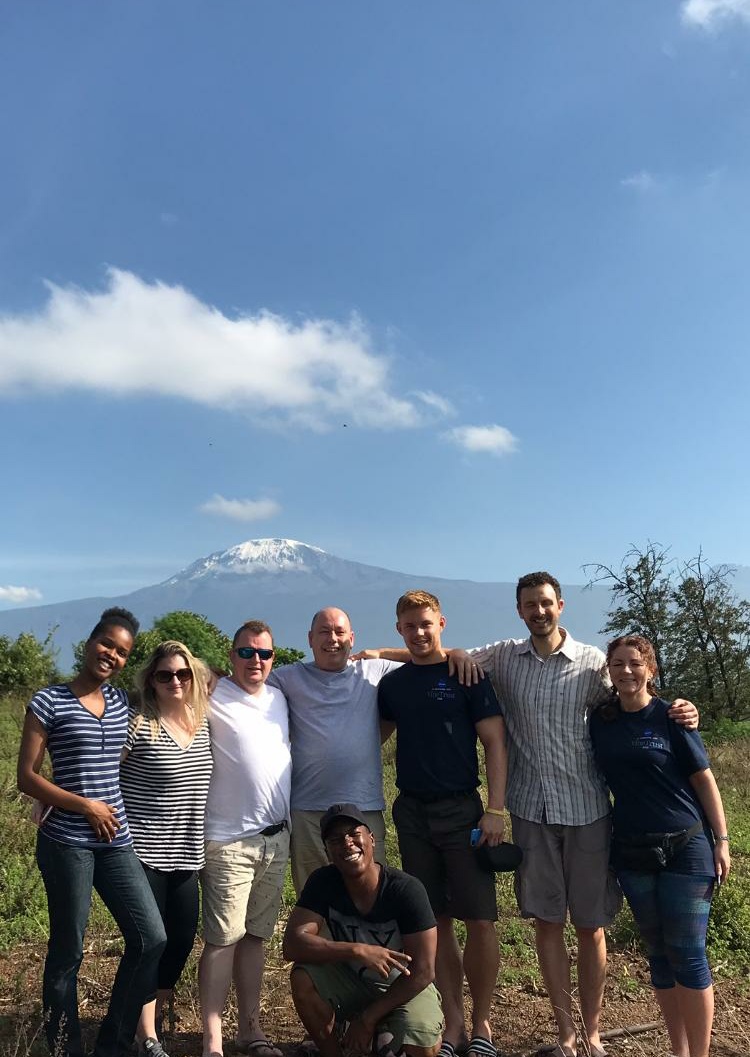 And business we did!
This team will be seeing bricks, sand, and buckets in its dreams tonight!
And given the progress made by the grea fundi on site, good dreams they will be aswell.
Team triple AAA, taking Tanzania by storm, since November 2018." Mark
Thursday 8th November
After another heavy day of graft the previous day, we were starting to feel aches and pains in parts of our bodies that we never knew existed, as we arose from our slumber at 7am for breakfast. However after a hearty breakfast we were all raring to get going for a half day on the worksite. Before today we had only worked on the 1st site, however we now had an opportunity today to visit our second site to meet the family and help out on more house building activities.
'Team Grafters' had the pleasure of meeting Mishrak's family today and with only a half day of work to make an impact, we got the work gloves on and started making headway. The first task was to level the floor height inside the house by shovelling dirt from the surrounding areas and transporting it by buckets to team members in the house who would spread it evenly. This was followed by the team hauling 350 bricks down to the worksite using a human chain, which was helped with Vine Trust Tanzania coordinator Ben leading us in a chorus of songs to perk up the mood. We finished up for our lunch down by the nearby stream which was a welcome change for us!
The plan for the afternoon consisted of all teams meeting at the 'Tinga Tinga' market huts to test out our bartering skills to drive a hard bargain for some Tanzanian art and crafts to take home.
After spending our Tanzanian shillings at the market we went home to prepare for the big football match - Babcock Vine Trust Team v 'The Reggae Boys'. The opposition team being Ben's semi-pro football team, who turned up to the dirt/sand filled pitch fully kitted in strips and football boots. Despite a couple of wonder goals from star players George & Jerry, the Babcock team were narrowly defeated 4-2, which was not a bad effort taking into account the 30-degree heat and undulating playing surface...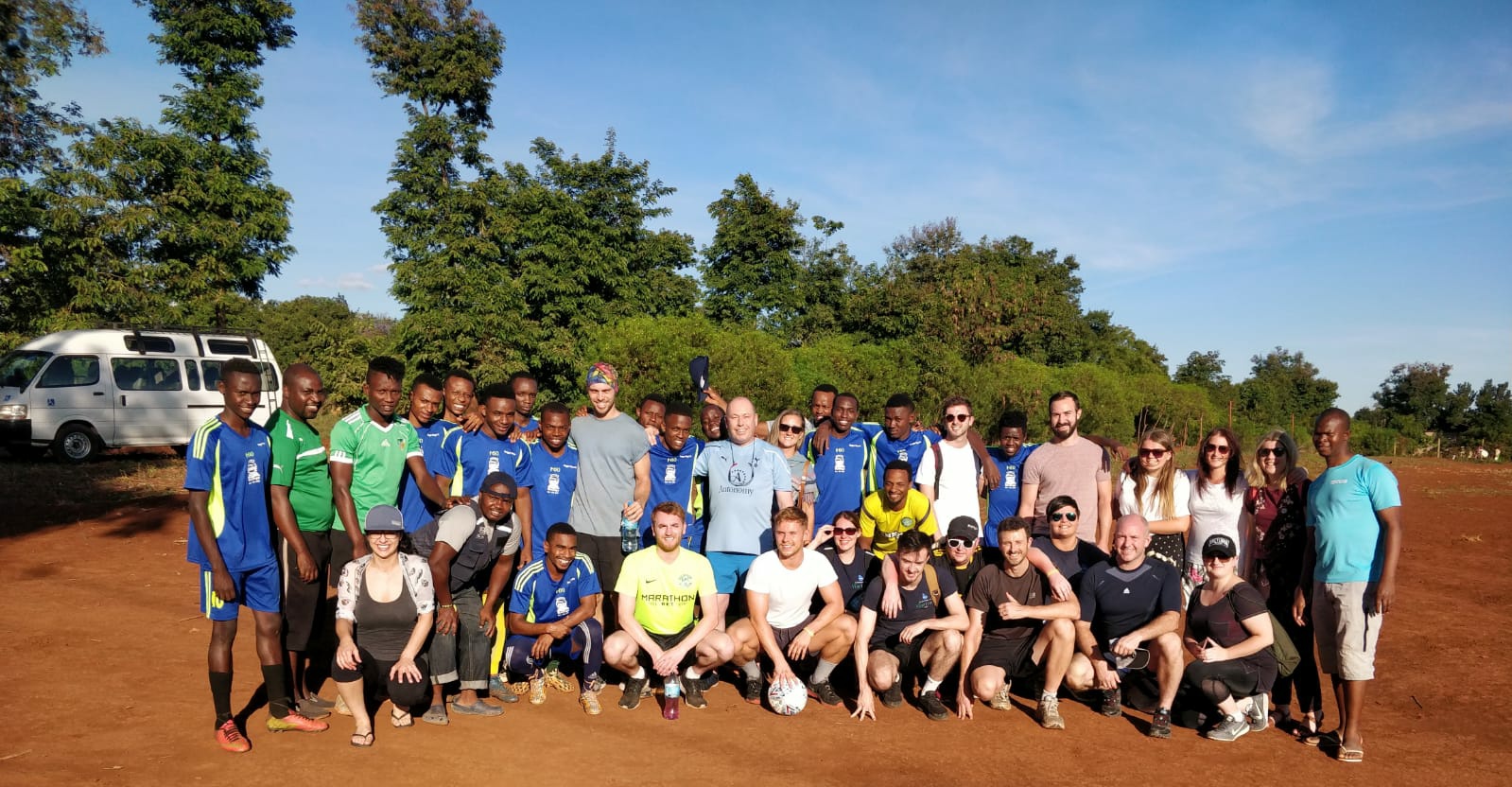 The day was rounded off with dinner at Kilimanjaro Coffee House where we finally had a chance to sit back and relax while enjoying some good food, and catching up on each teams' progress for the day.
Lewis
Friday 9th November
Today the whole group took an eagerly awaited trip to the Fuka school. We initially stopped at the Hai Vocational Training centre in Boma ng'ombe. We were shown around the various workshops and skills being taught to the students. The school proudly showed us the 7m-tall organ the students are hand crafting for the Dar Es Sallam cathedral.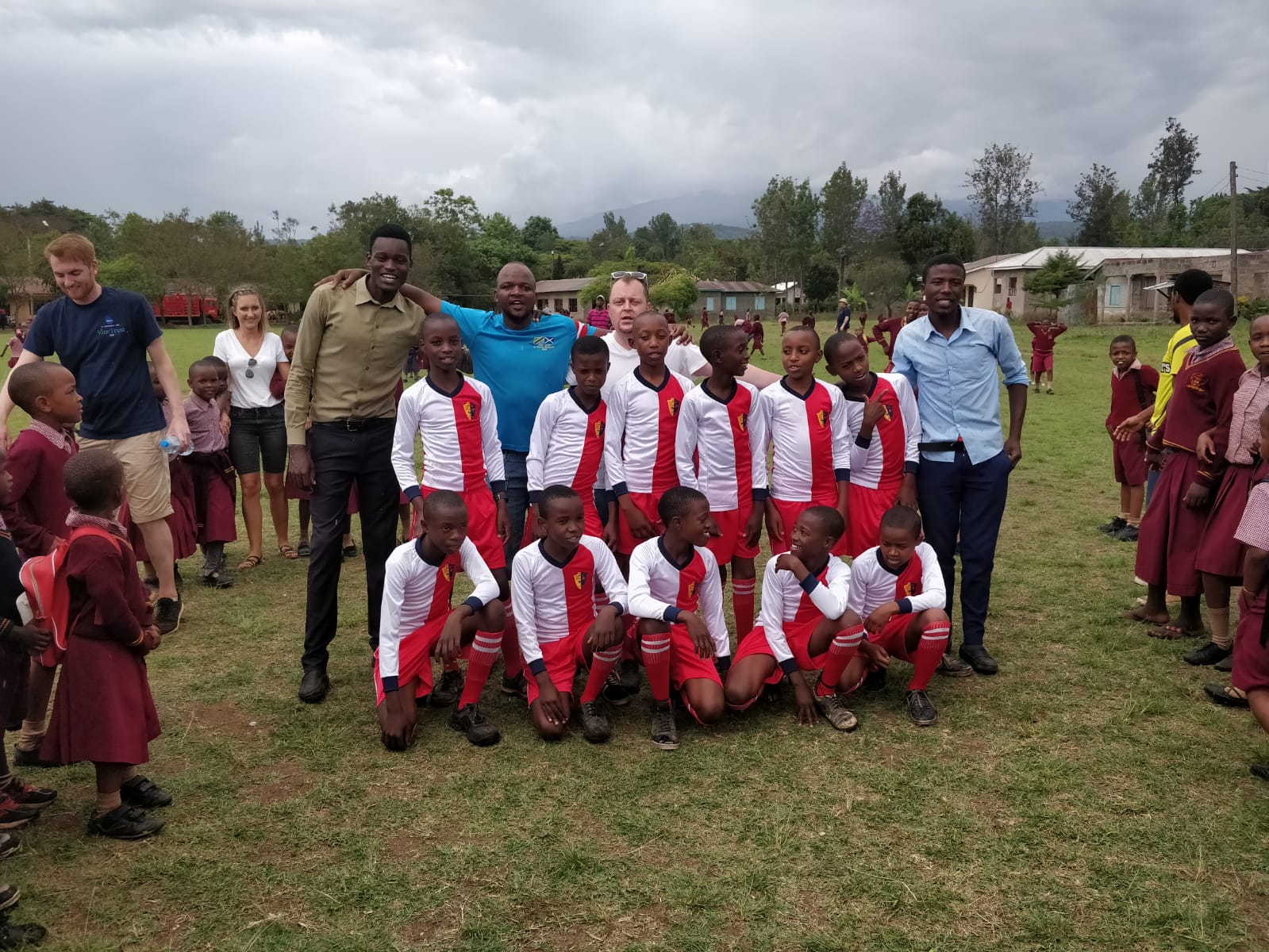 After lunch we visited the children at Fuka School, who house, feed and educate 32 orphans along with hundreds of other school pupils. When the headmaster called the children over, a rush of kids appeared from the school gate. It was a heart-touching moment spending time with these kids, some of whom were orphans. Everyone thoroughly enjoyed playing with the kids who were so enthusiastic and inquisitive. They were estatic with their new complete football team outfits, along with various donations the group collected.
Ben
Saturday 10th November
Today our 3 teams went to our third and final site and now have been able to see the great work everyone has been doing since touching down in Kilimanjaro on the 3rd of November. The morning was spent by all working on these sites and continuing to progress with helping the fundis build the homes all the way to completion.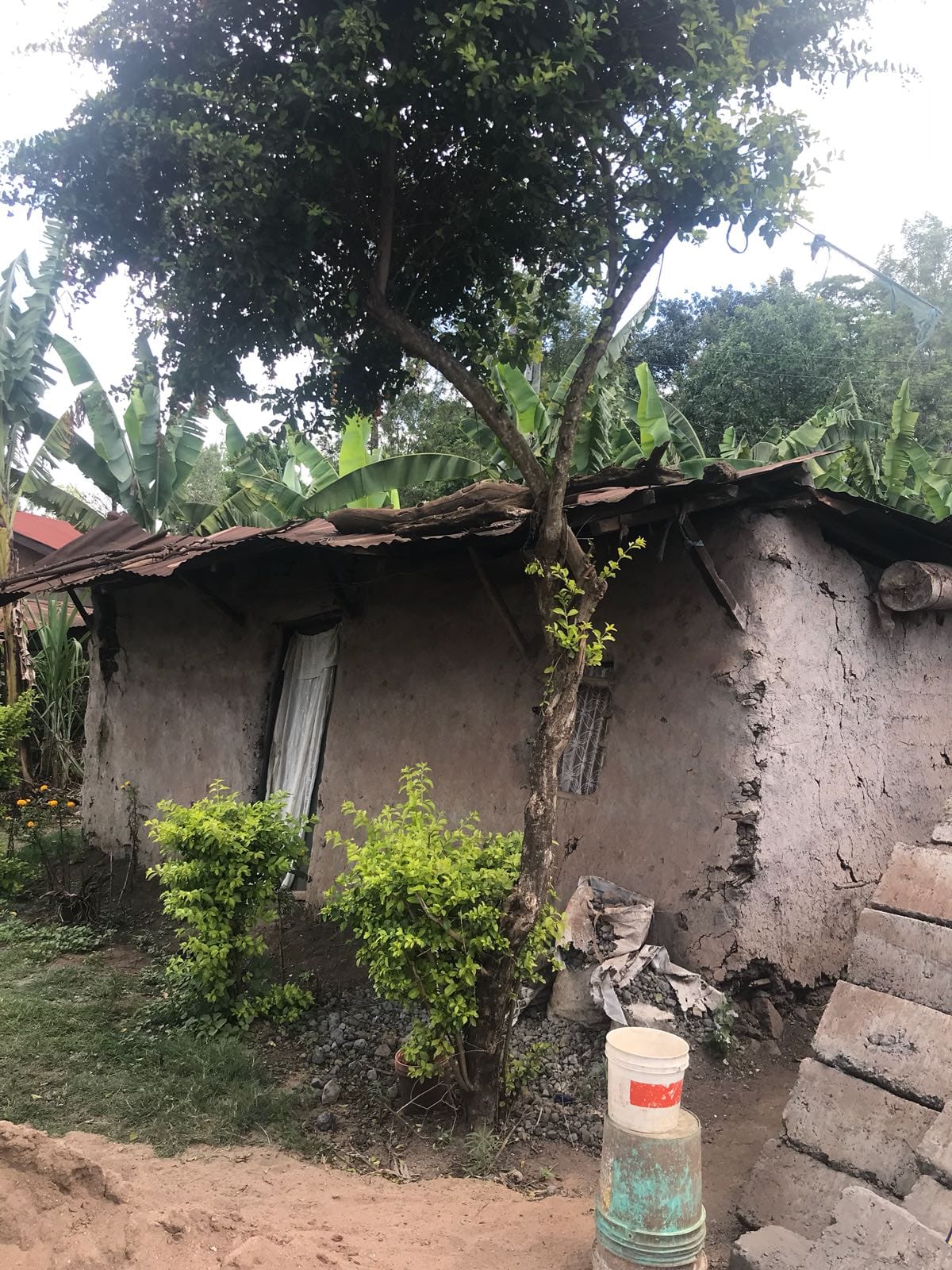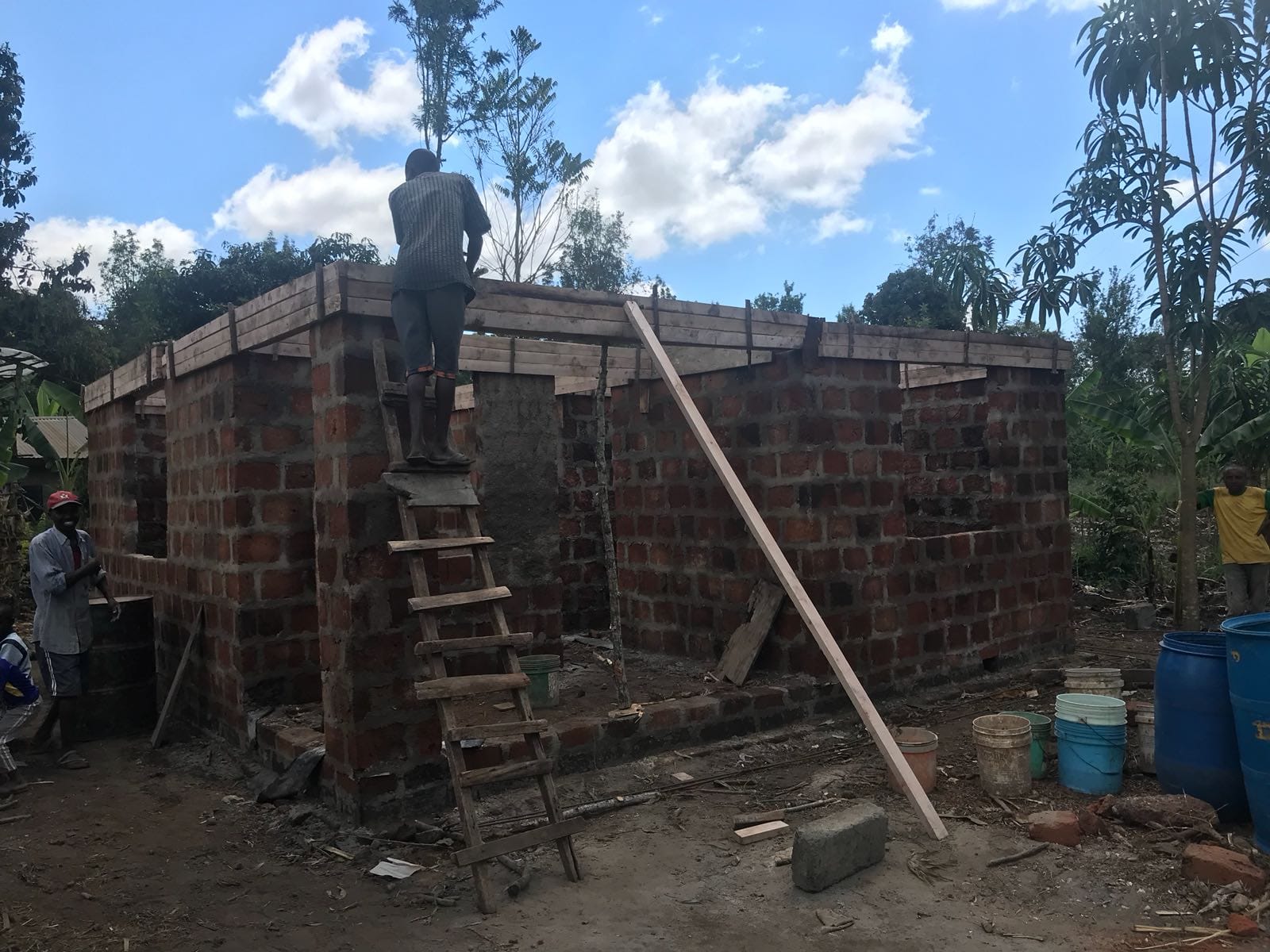 After a quick spot of lunch and change of clothes everyone came back together and went to visit Kimashuku, an orphanage that Vine Trust supported the construction of. We were touched by the stories and history told by those who live here now and the lasting impact the Vine Trust has had on them and their futures. We gave gifts to the children and played games with them and learned more about their ambitions for the future. The afternoon cumulated in a heartfelt goodbye by the children singing us a couple of Tanzanian songs.
The evening was spent by us going to Union Cafe for dinner and then a sports bar before heading back to Umoja.
Richard
Sunday 11th November
We rose early today to the cock-a-doodle-doo of Umoja's resident rooster. After a spot of banana and a few pancakes we headed to the KCMC Campus for a Sunday church service where we joined the congregation in song and dance and received a warm welcome from the Pastor.
We then headed in the direction of the mountain to learn about and visit the famous Chagga Caves. As well as some amusing tales and catch phrases, our entertaining tour guide taught us about the centuries of active conflict between the Chagga and Massai tribes. We learned this had led to the development of an extensive cave system which went deep into the hills allowing the Chagga to hide their families and livestock from the Massai Warriors. The cave tour concluded with a coffee making demonstration to the sound of "Twanga, Twanga, Twanga" as we cooked, ground and boiled the coffee.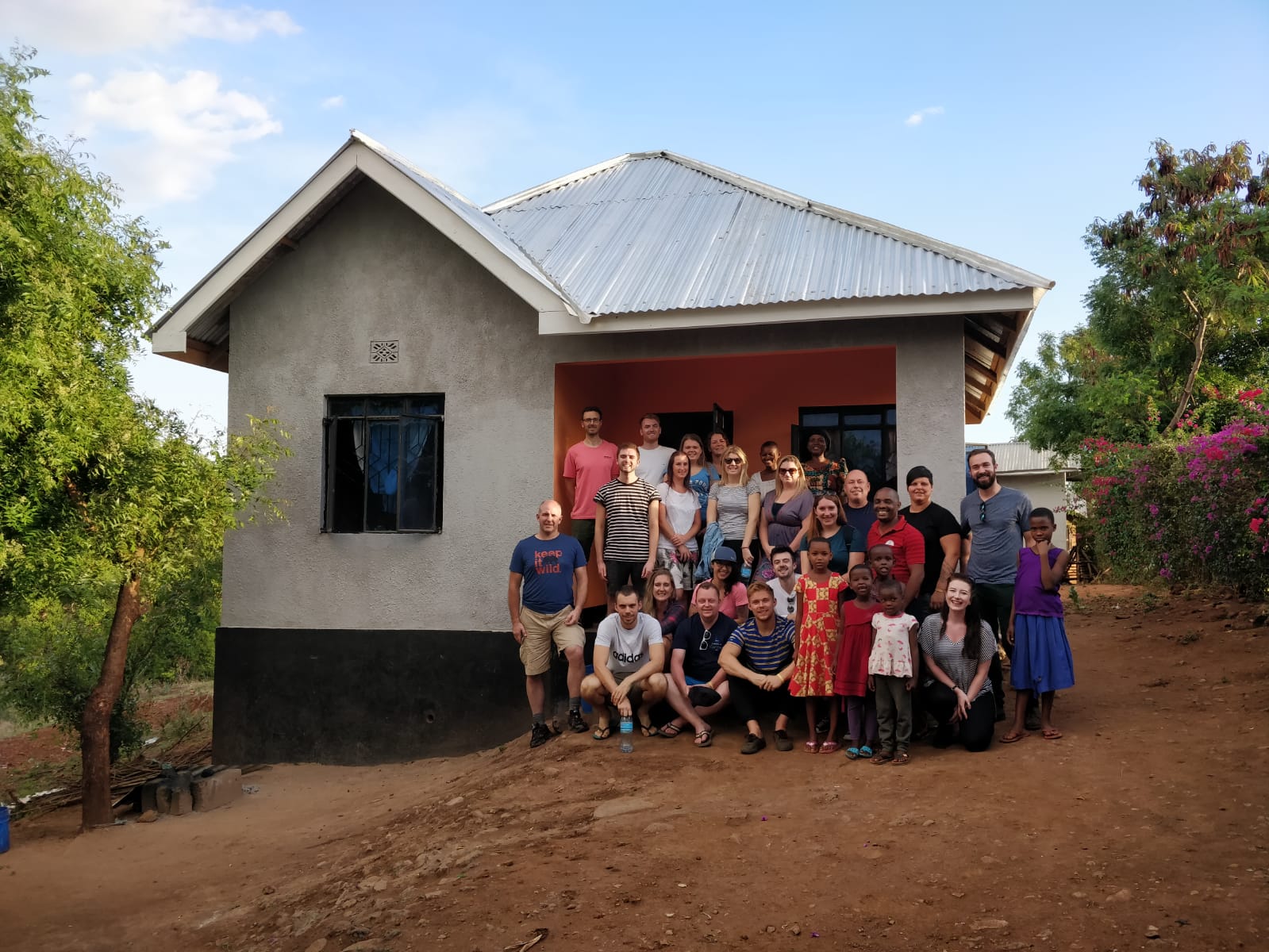 On our journey back we had the privilege of visiting a family living in a completed home which was built by Vine Trust volunteers earlier this year; it was so rewarding to see a finished home and really allowed us to understand the importance of the work that we have been doing.
Elliott
Monday 12th November
Today we were back to our original sites for a full day of work, however this morning those of us working in Marangu were lucky enough to attend the Opening Ceremony of one of the houses started in June. From walking (and sliding) down to this site we could understand easily why it took a little longer to complete this house. Moving the materials down from the road must have been very difficult and even a bit dangerous, especially in the rain!
This house was built for a family of 5 children who lost both their mother and father to HIV. Aunt Esther took care of Rose, 8 and Tumain, 10 as well as her own children, and an uncle looked after the remaining children - Juliana, 14, Irene, 12 and Jonas, 4 stayed with their grandmother. These relatives made a living selling old clothes on the streets so had very little money to buy food. Unfortunately the children's original house was falling down, so the family had to split up and live with other relatives.
Despite their struggle, there was no sign of sadness when we arrived at the ceremony. The children and relatives greeted us with song and dance and led prayers once Catherine and Professor Andrew from TAWREF had told us the family's story. After much excitement, our Vine Trust Leader Eilidh, together with Rosie and Tumain, cut the ribbon to officially open the house.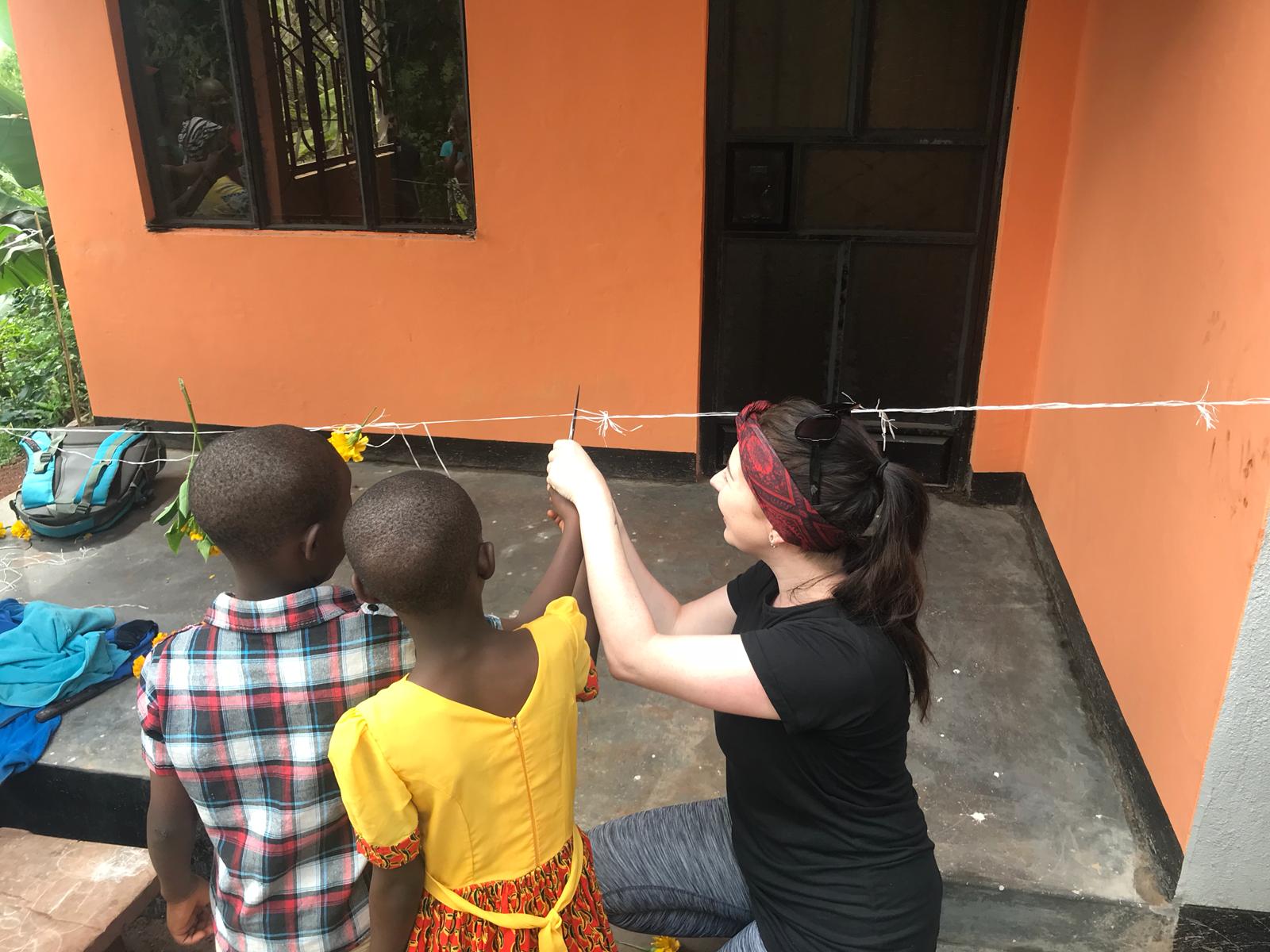 More singing and dancing followed as we handed over traditional house-warming presents such as soap, sugar and tea. The team were thankful to experience such a momentous occasion and we were told we could come and visit any time!
Soon after, it was back up the bumpy road to the building site for John and Jonas' house. Following a few days' break, we could instantly see the family, neighbours and fundis had missed us, as we were welcomed back with many hugs and handshakes. Moving rocks and buckets of gravel were our main tasks for the day, which we got stuck into by making chains and singing songs with Elly. Jennilee and Lewis put in a very hard graft digging and shovelling soil to throw into the foundations of the house in order to level the flooring. Due to only having half a day's worth of work left at this site the following day, the team were keen to work as hard a possible and make good progress on the house, as well as spending good quality time with the family.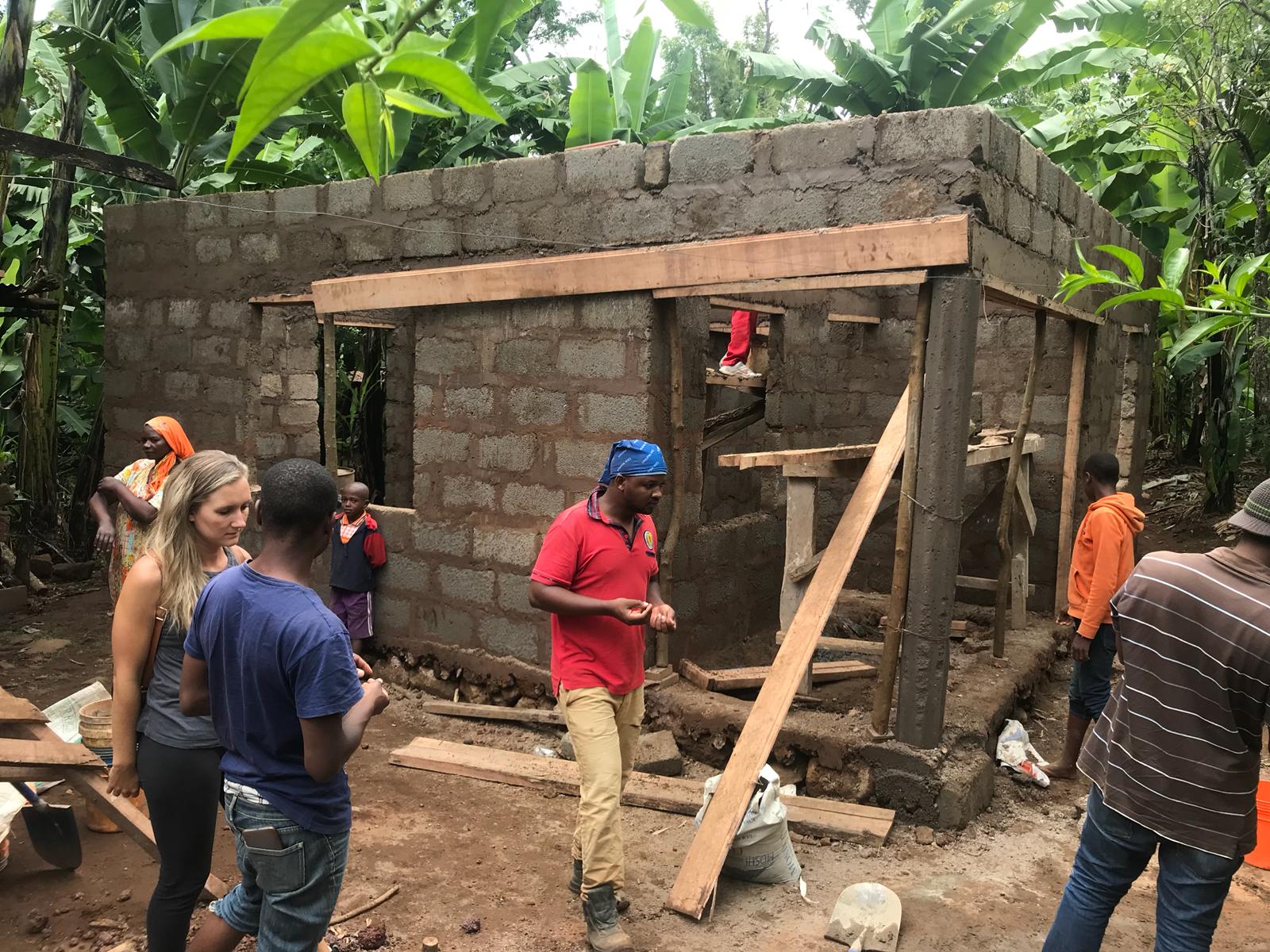 All teams were reunited at Deli Chez for dinner and everybody was keen to head back and get some rest for the final push on the building sites the next day!
Tuesday 13th November
Tuesday was our final working visit to the worksite and was followed by our partners celebration meal in the evening.
Unbeknown to Meshak's team of volunteers, before we visited the worksite, we took an organised detour to the community leader's home. We enjoyed an incredible spread of food which left us wishing we didn't eat so much for breakfast.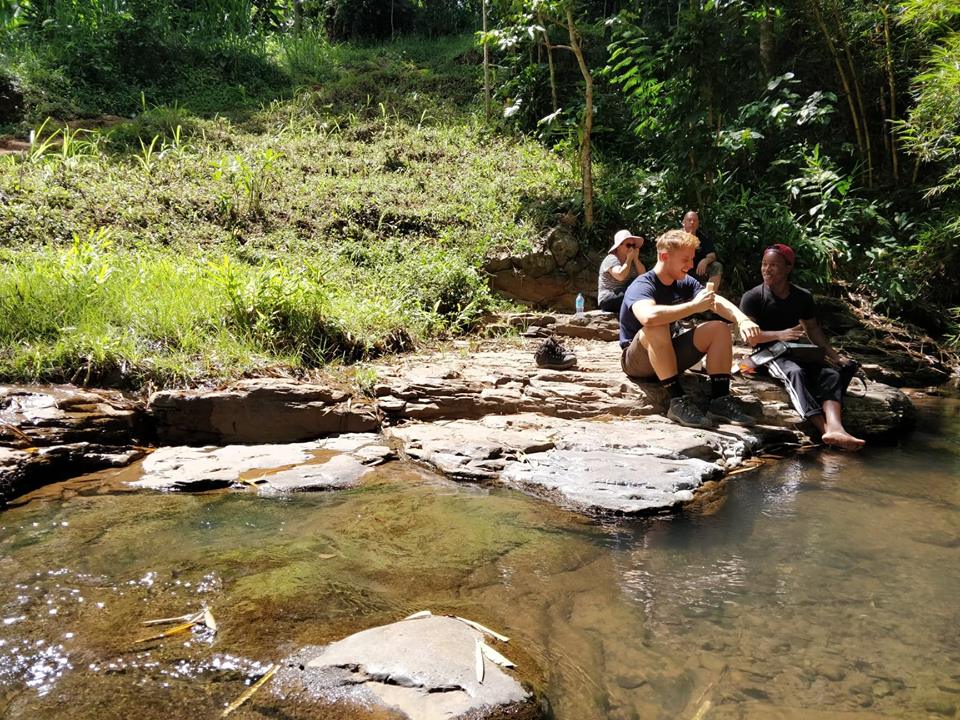 Spirits were high and eagerness was rife knowing this would be the last time we could contribute to the construction. At this point, we had completed our objective of constructing the home to the first floor level. This begged the opportunity to wet the cement, to make it more constructively sound, and create an area where new plantations can be made.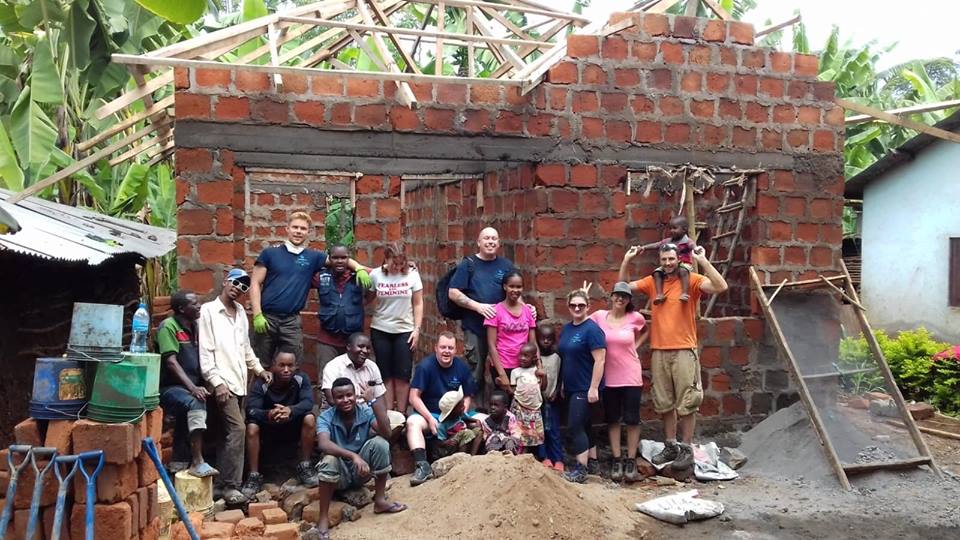 In the evening all the partners were invited to Umoja for food which was a great opportunity to celebrate the successes we had all contributed to. The evening was concluded with a selection of themed dances including traditional Scottish and Tanzanian dancing, 'I like it' and the Macarena.
An early night was had by all for the early 5AM start for the Safari.
Wednesday 14th November & Thursday 15th November
With a beautiful sunrise over Moshi and Kilimanjaro behind us, we set off towards Tarangire National Park in a four jeep convoy for our first day of safari.
After a few hours' travel filled with excited conversation, naps and loads of snacks, we arrived at the gates to Tarangire. From the viewing platform we could already see elephants in the distance and we eagerly set off as soon as registration was complete.
We were lucky enough to see three of the Big Five - elephant, buffalo and lion - on this first day, as well as many other animals, birds and insects including some cheeky monkeys at the picnic area who enjoyed stealing bits and pieces from our lunchboxes when we weren't looking.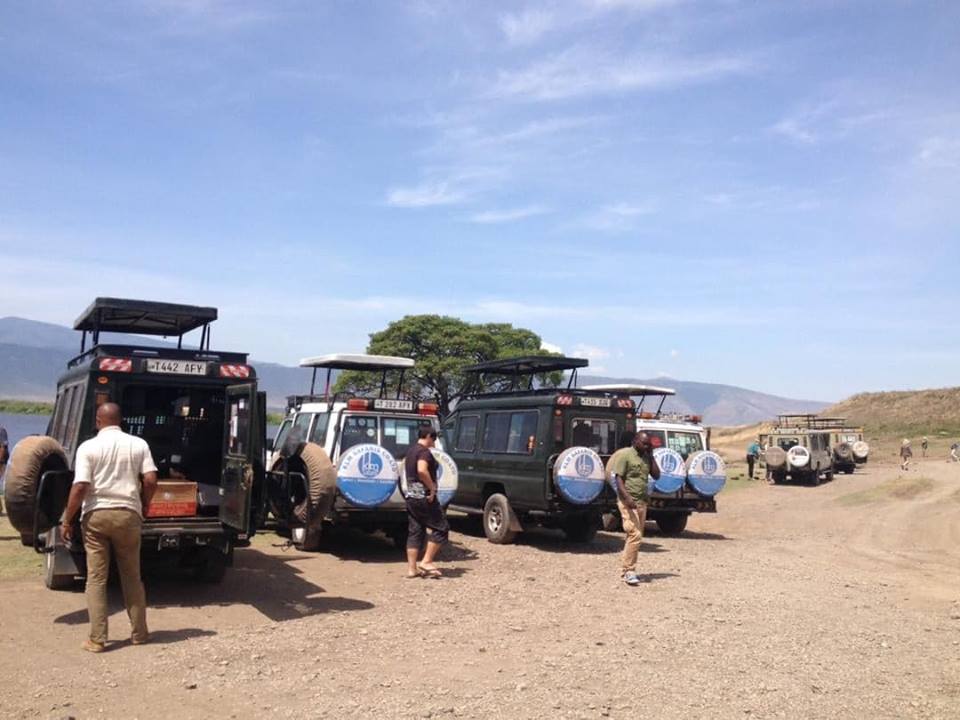 Windswept, sunburned and tired, we headed off to our accommodation for the night, passing the beautiful Lake Manyara on route and snapping some scenic sunset photos. We arrived at Eileen's Trees and were greeted with the warmest welcome from the staff there. We were shown to our rooms, enjoyed a delicious buffet dinner and the group split off to play cards, have a dip in the pool, chat over a hot chocolate or have an early night.
Awoken by another beautiful sunrise, we left Eileen's Trees and made the short journey to Ngorongoro Crater, our second safari destination. After enjoying some of the views and taking a nice group photo, we began the steep and bumpy descent into the crater. We ticked off our fourth and final animal of the Big Five, a rhino in the distance, but unfortunately didn't manage to see a leopard this time around. We also saw more lions, ostritch, zebra, wilderbeest among many others and enjoyed lunch by the hippo pool.
We had a long drive back to Moshi so we set off just after lunch time and on arrival back at Umoja, celebrated Becky's birthday with a delicious Tanzania cake.
Although a long two days, it was fantastic to see more of Tanzania and it's varying landscape and scenery - thank you KLM Safaris for another great experience had by all!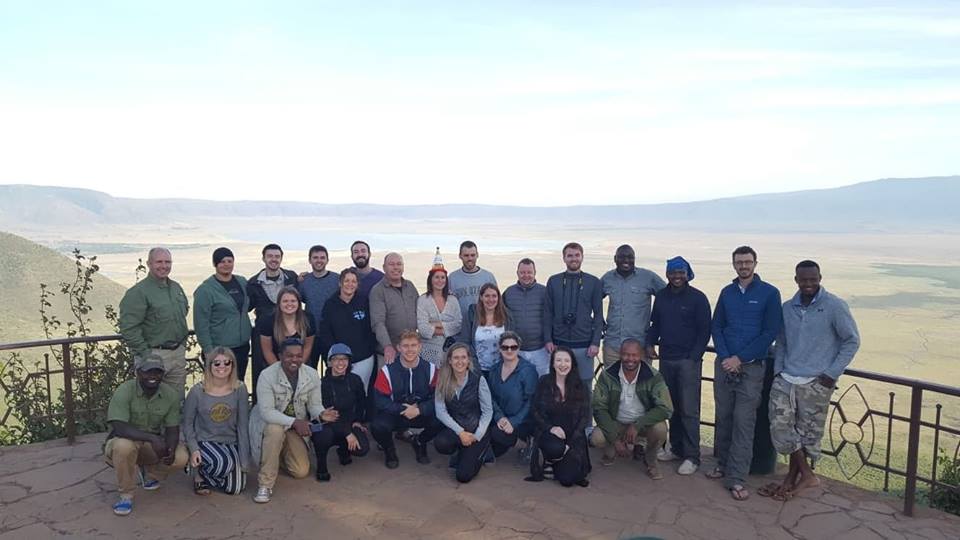 Friday 16th November
And finally, our last day in Tanzania! With our flight looming in the evening, we set off early to make the most of the time we had left. We visited two of our three sites to take gifts, share our thanks and appreciation with the families and the fundis we had been working with. We were so impressed by the progress made on both of the houses and enjoyed sharing some final stories, laughs and even tears together.
Each worksite team made such special connections with the families and the fundis, it was so touching to see the relationships they had built and the pride they had over the home that they had helped to build over the past two weeks. I hope that for many in the team this won't be their last trip to Tanzania I am sure they have all made memories that will last a life time. The fundis will continue to work on the three homes in the coming weeks and it looks like all of the families will be in their homes for Christmas. What a way to end the year!
Asante sana wote! Karibu sana in Tanzania anytime.